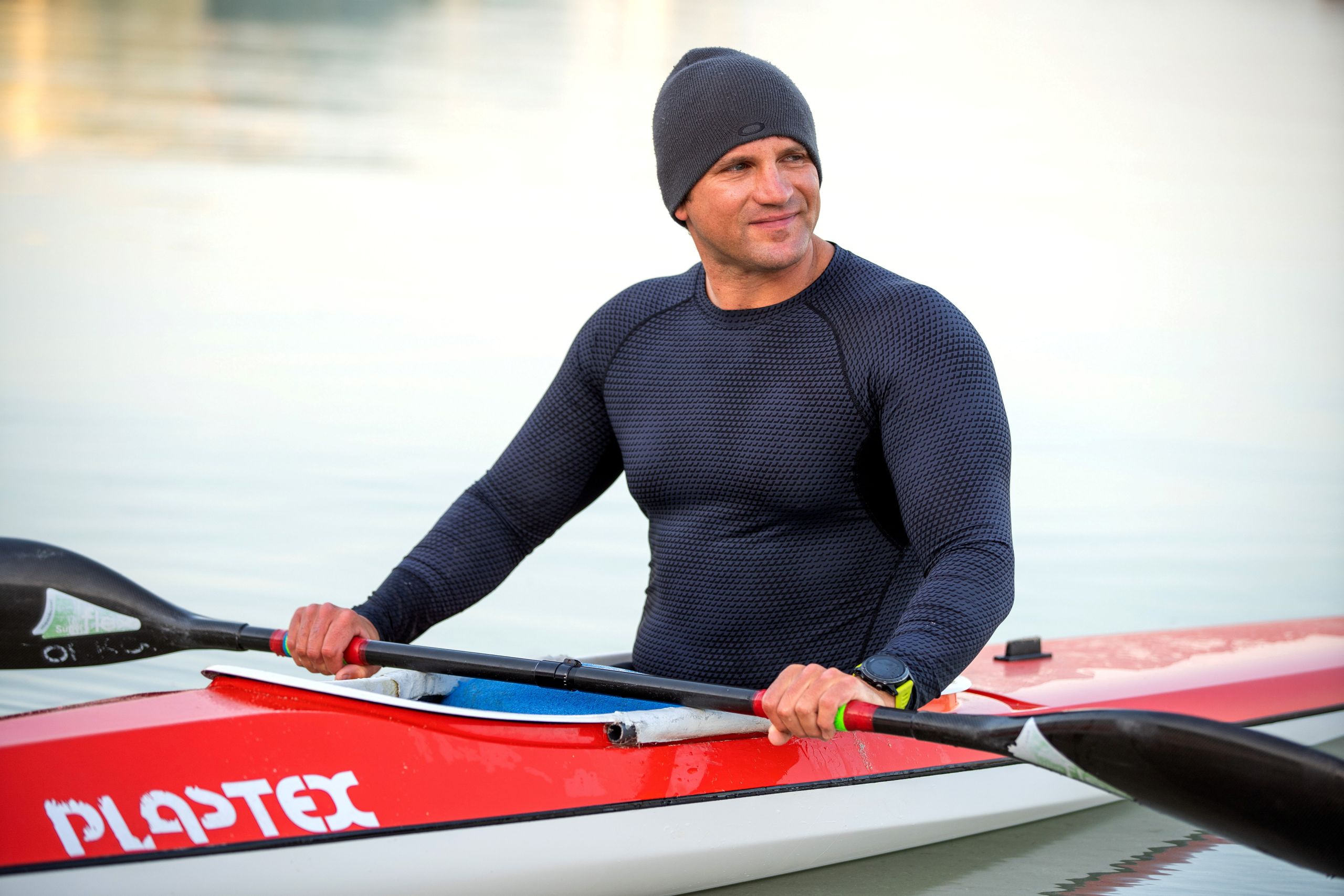 As the world awaits the launch of the Tokyo Olympics, 'The National' is profiling athletes and para-athletes hoping to make it to this summer's Games in exceptional circumstances.
---
"I am on a weight loss mission," Mike Ballard says, cheerily, as he ponders the next phase of his Olympian quest.
If he can shed approximately 10 kilos between now and the Paralympics in Tokyo in September, the 36-year-old American estimates a finals place could be within his compass.
His coaches reckon 3kgs is a more manageable goal given the time constraints, but Ballard is used to stripping weight. As a schoolboy sports star back in his native Michigan, he used to cut kilos when the seasons switched from baseball to wrestling, to the point where he would get to below seven per cent body fat.
That is the target now, too, albeit in an entirely different field to that of his teenage years.
"The top guys in the world are averaging six per cent body fat," he says, pondering what sets apart the elite racers in his category, the 200m kayak sprint.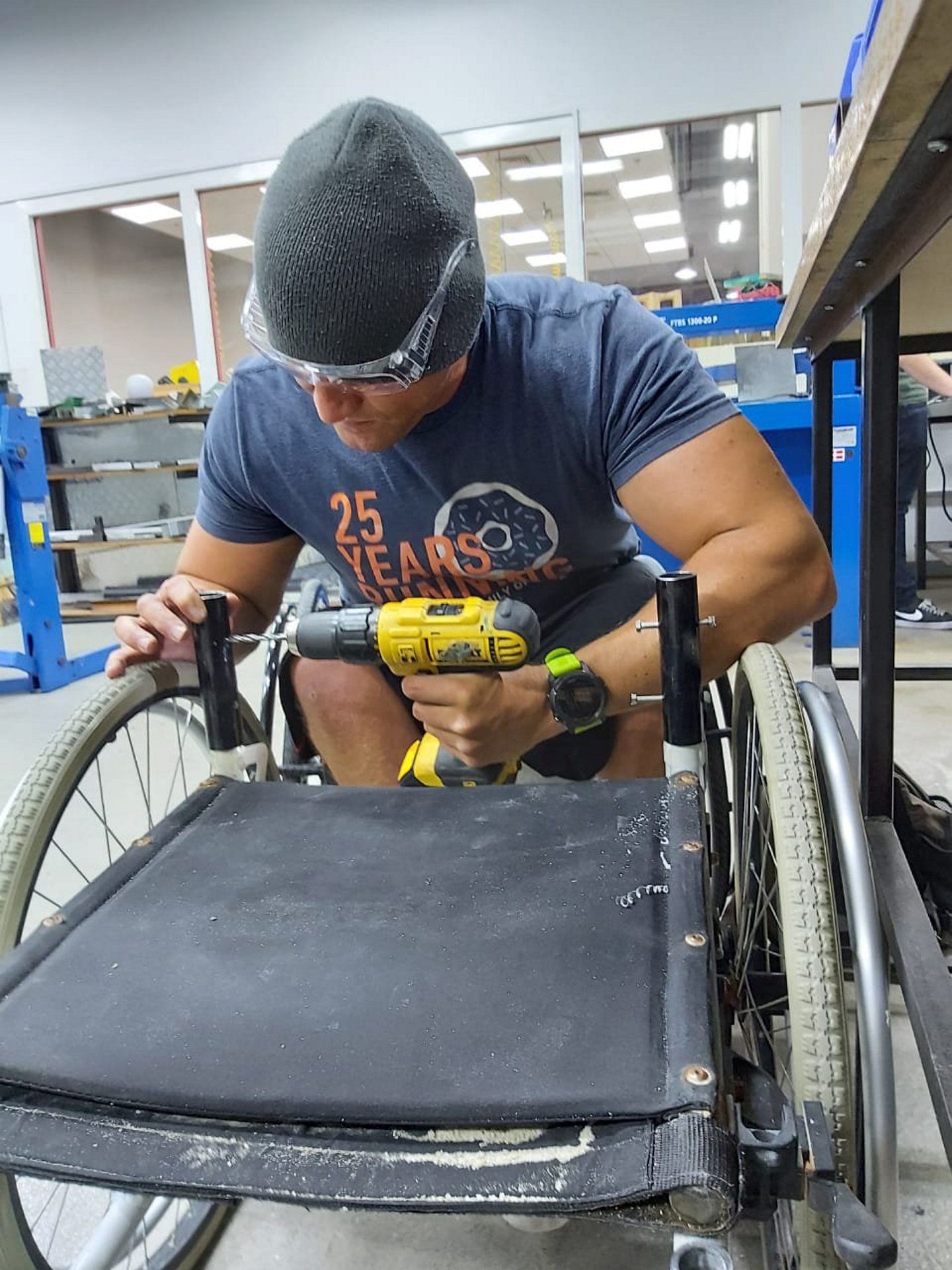 Ballard working on his wheelchair.
"If you are propelling your body through water, you want your body to be as light as possible. These are guys who are trying to shave off ounces, so if I am trucking around 10 extra kilos, that is not helping.
"I'm on a weight loss mission, I have a meal plan that I'm happy with. We're going to make that work."
His cleaner, Evelyn, has been stood down from cooking duties. Now, he is on a healthy eating programme designed by one of his neighbours in Al Zeina in Abu Dhabi.
In fact, he has become a brand ambassador for Well Emirates Meal Plan. "Basically, that means I get a free meal plan and take pictures of it," he jokes.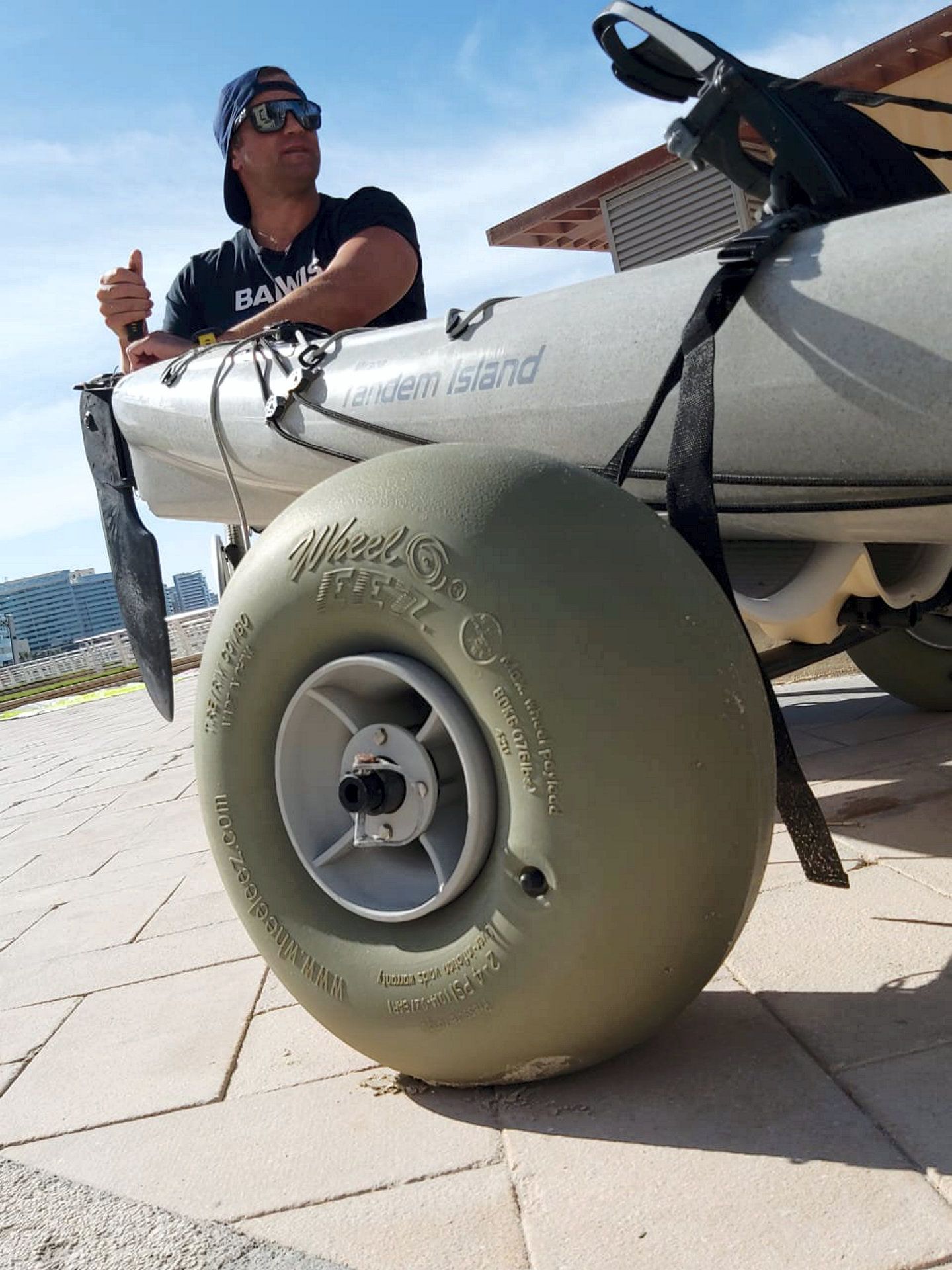 The 36-year-old American lives in Abu Dhabi's Al Zeina.
The daily plan is three meals plus a snack, that amounts to 1,500 calories, all delivered in one box ready for heating up.
Even though he is focused on his end goal of Paralympic qualification, he does give in to cravings on the odd occasion. Usually, chicken with hot sauce, with a side of mash potato and butter, on the way back from training on the water.
"Because Nando's is 50 metres from my house, that is my cheat meal," he says. "If I have a heavy day where I feel like I have earned something, I finish my session, ping Nando's from the beach, then pick it up on the way home."
Ballard's immediate goal is the paracanoe World Cup in Hungary in May, which carries with it the potential of qualification for Tokyo. His long-term aim is to be competitive at the next Games, in Paris in three years' time.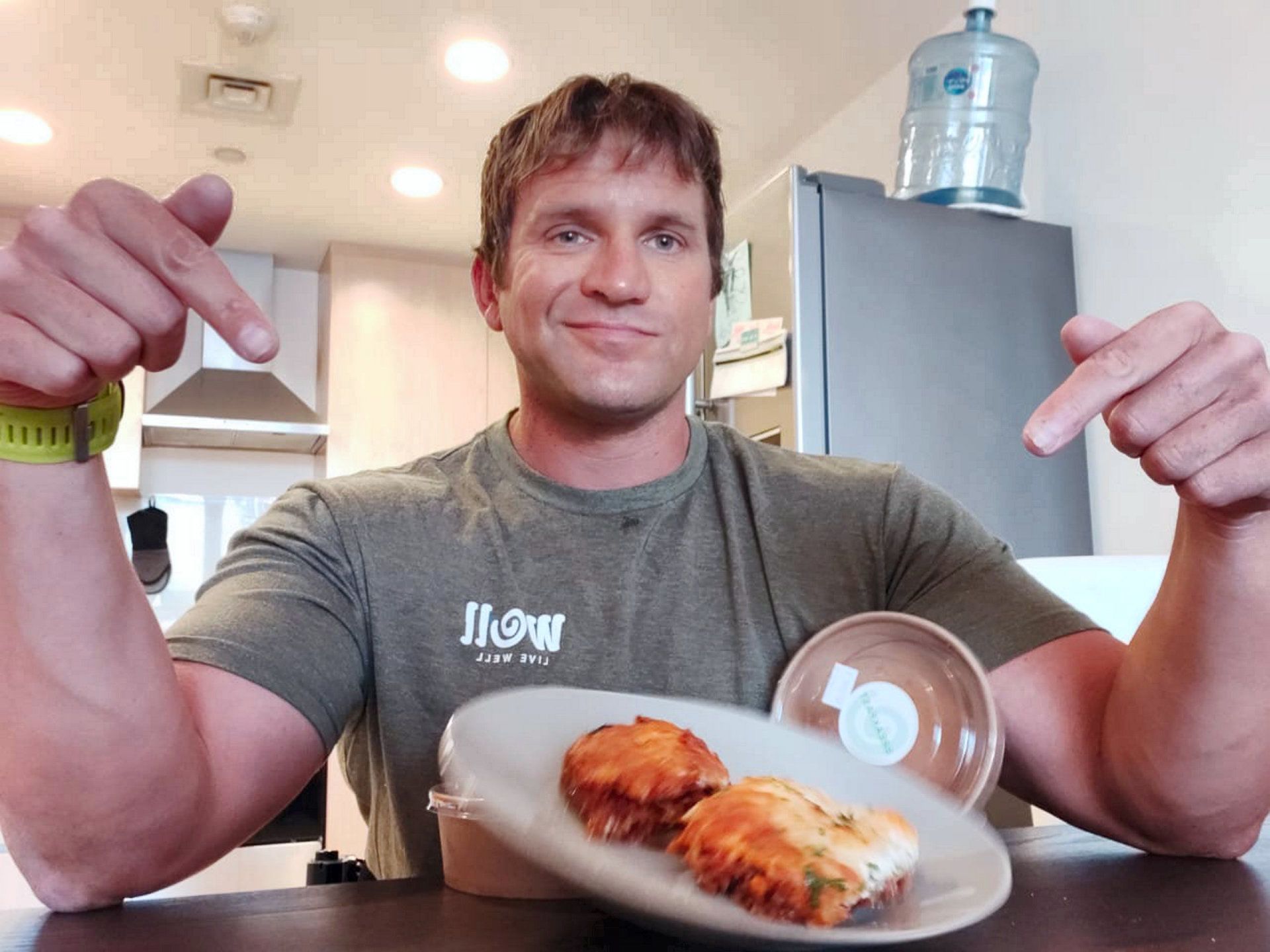 He's on a weight-loss plan to increase his speed.
"I'm in a good place," he says. "I've come to the decision that I am not going to get exponentially stronger, and I'm not going to get exponentially better as a kayaker in the next two and a half months.
"The single most beneficial thing I can do is to embark on a weight loss programme.
"I'm trending downward, but with my body type, I put on muscle mass easily.
"I need to shrink. I do not look like the guys who are in the A final. I look like the guys who are in the B final."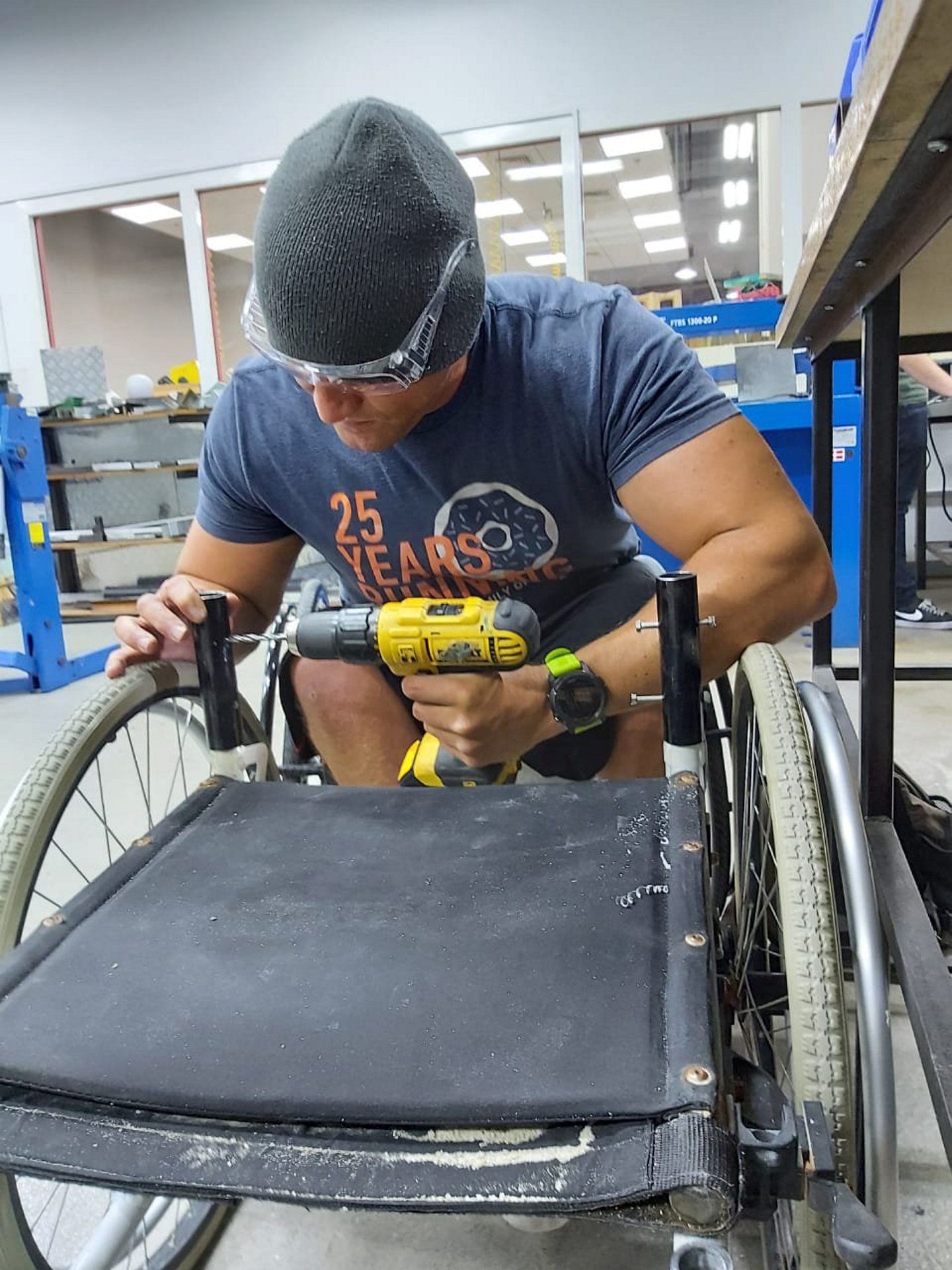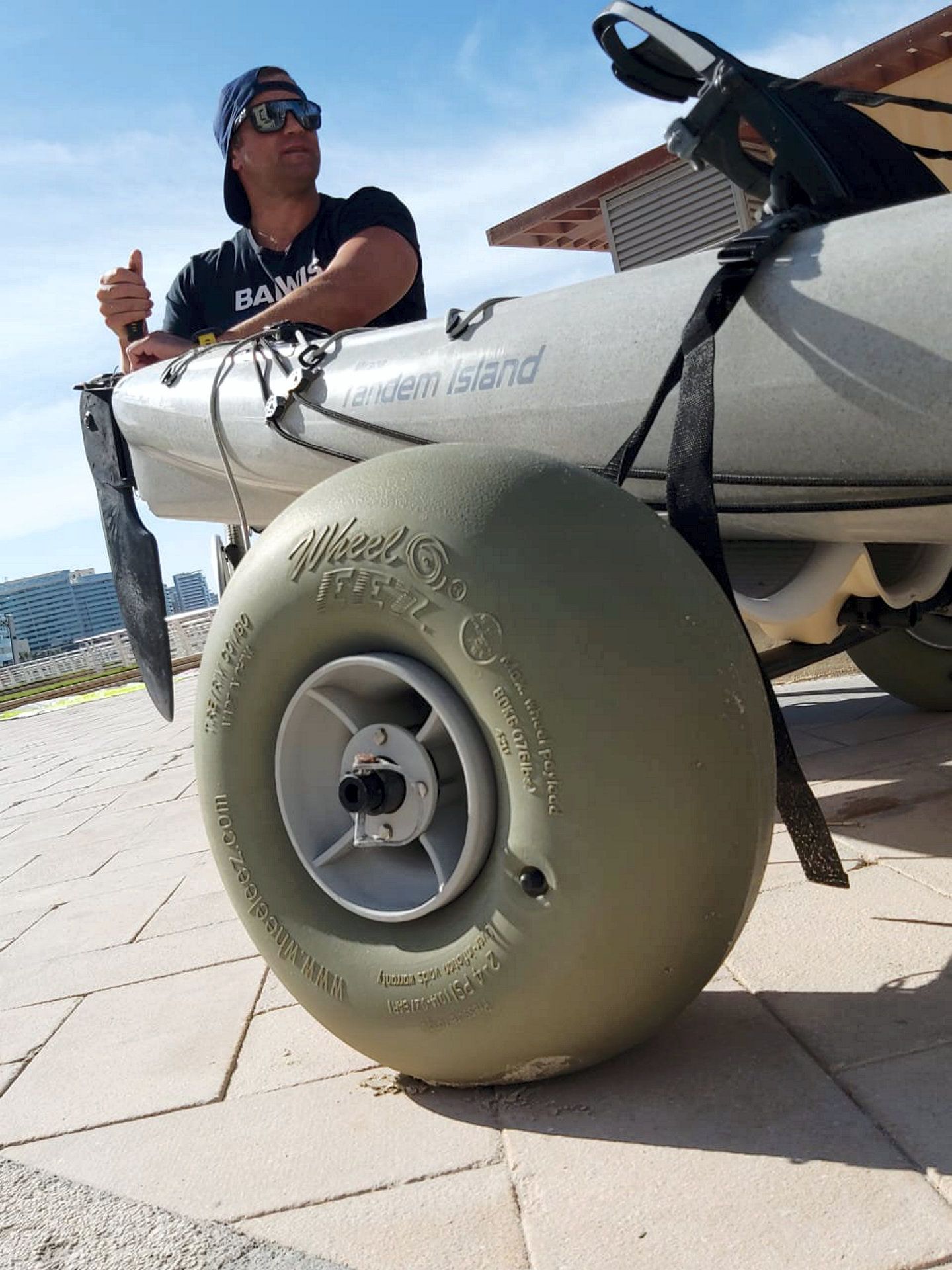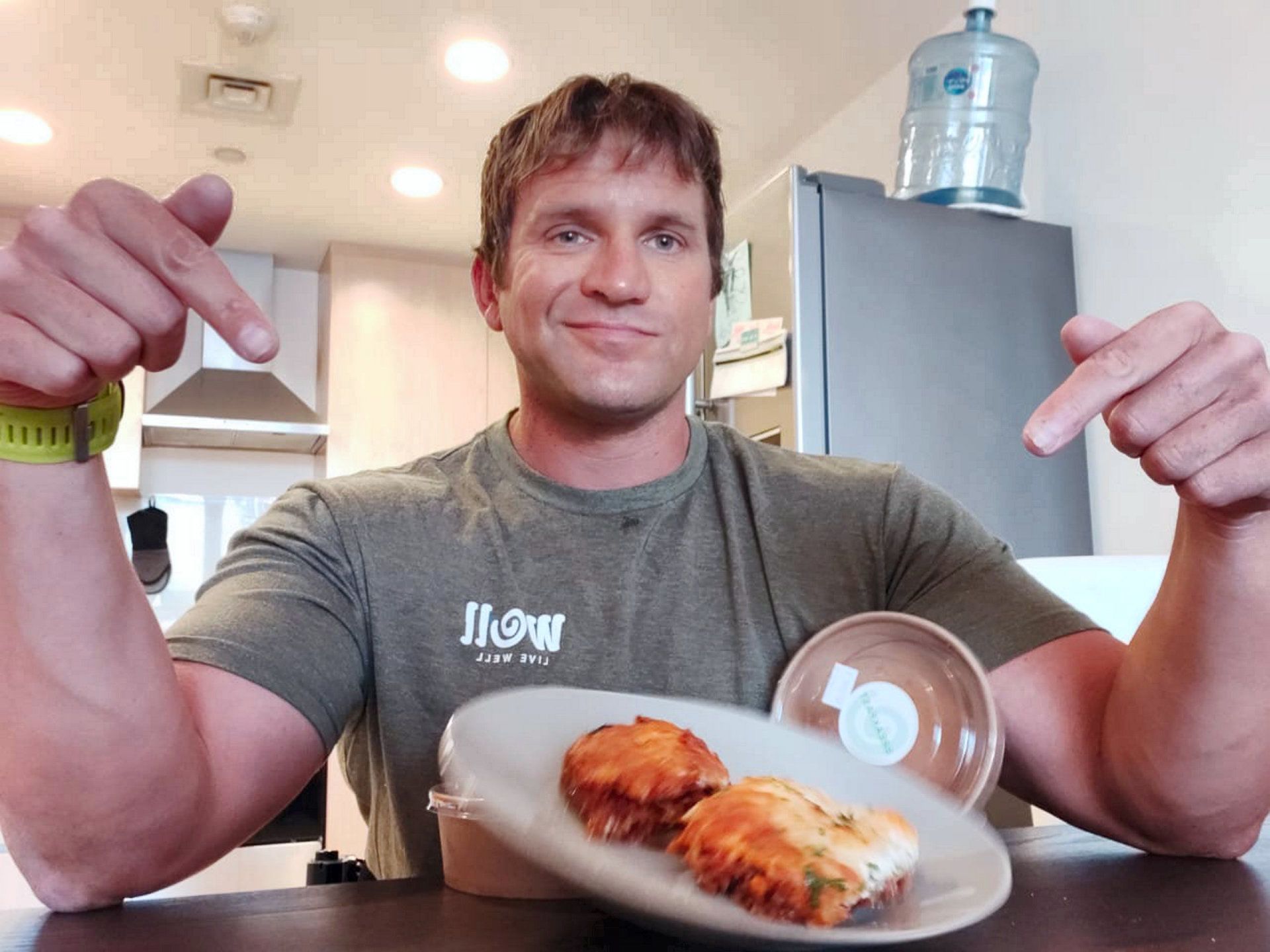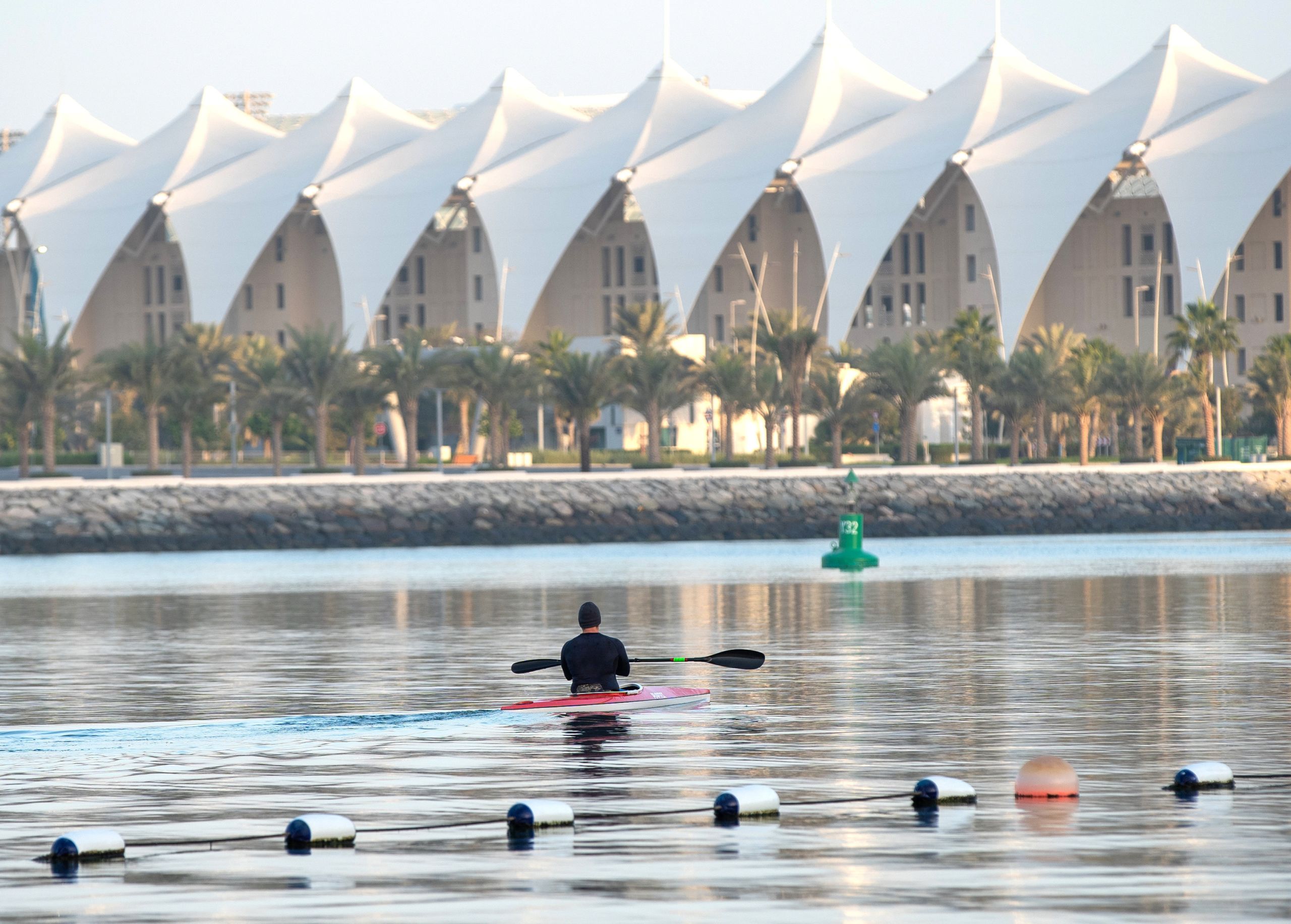 Mike Ballard on the water at Al Raha Beach in Abu Dhabi.
Mike Ballard on the water at Al Raha Beach in Abu Dhabi.
A life-changing moment
The fact Ballard has ended up pursuing a path to glory in a kayak feels like an apt coincidence. 

When he first arrived in Abu Dhabi in 2011, he had taken up an invite to become a guide on the mangroves of the capital, after a chance meeting with the manager of a kayak tour company.
"He said, 'Dude, if you can speak English and you've been in a boat before, you're hired," Ballard says.
"I became their Saturday fill-in guy. They had their staple guys, basically the single husbands of teachers, the trailing guys who came along who would work as tour guides when needed.
"So for me it was rugby all day Friday, then kayaking in some capacity on Saturday."
Work – as a special education teacher who specialises in autism - was his main focus, closely followed by the rugby community he had become deeply embedded with at Abu Dhabi Harlequins.
Then his life was altered completely in April 2014 when his back was broken in an accident during a rugby match, leaving him paralysed from the waist down.
The game – a domestic cup final – was the first his mother Karen had ever attended. Her holiday from Michigan to the UAE became unimaginably traumatic, ending with her accompanying her son in a medevac flight back home between a number of emergency surgeries.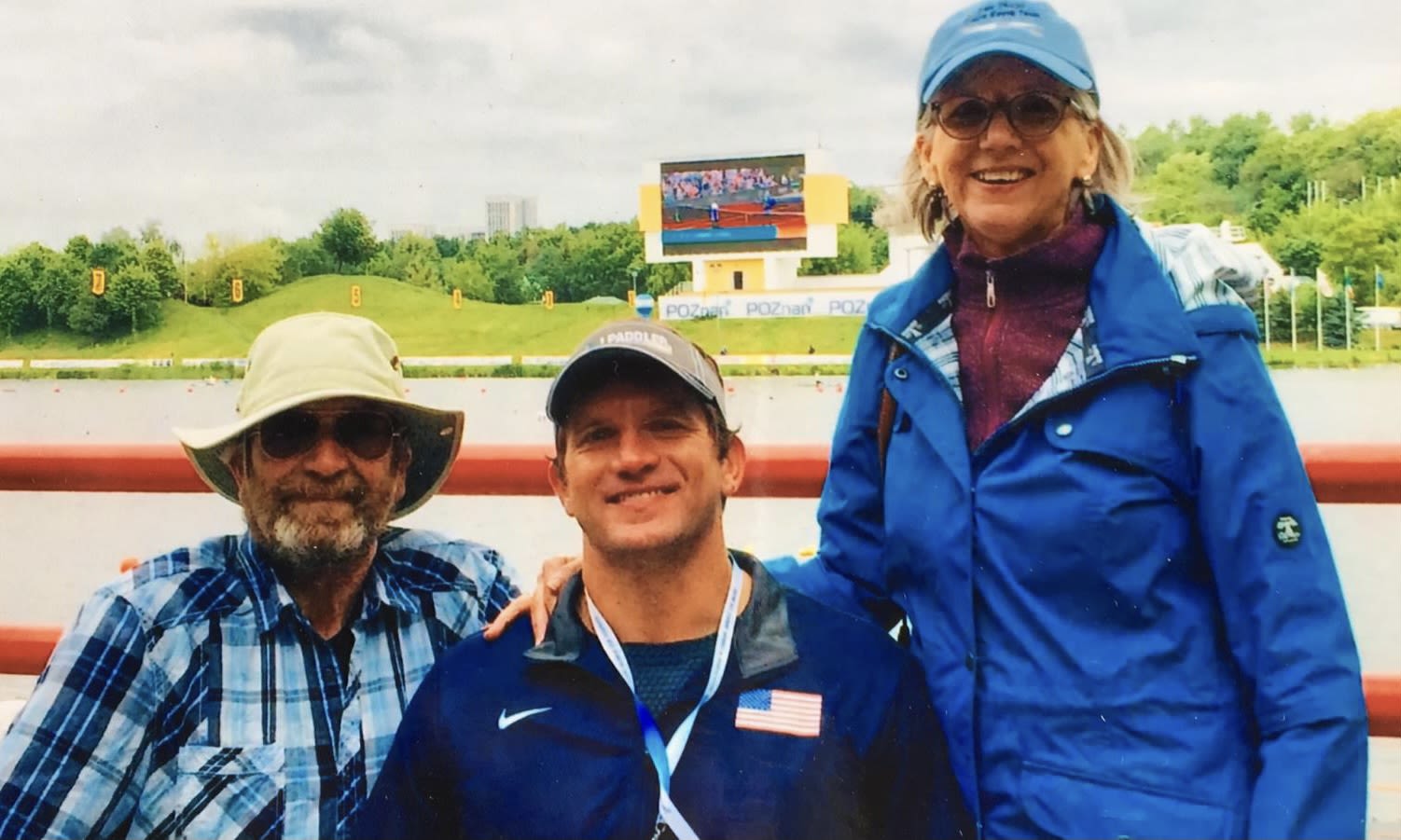 "Another player's mum was chatting with me," Karen Ballard says.
"She was quite full of chat, and I didn't see it happening, or know that it had. All of a sudden, I looked up, and everyone looked so worried.
"I said, 'Who is it?' And somebody said, 'It's Mike'. It seemed to take forever, and I knew Mike would hate it if I acted concerned.
"Finally I said, 'Should I go down there?' Somebody said, 'Yes, you should'. So it took me a while to realise how serious it was.
"I got in that ambulance and said, 'What's wrong?' He said, 'I can't feel my legs.' I said, 'Oh my God,' then switched straight into mom mode, and said 'Everything is going to be alright'.
"That is kind of how we were the whole time. Everything is going to be alright. Which, surprisingly, it has turned out to be."
She says she had always felt her son had the drive to make it as an elite sportsman – most likely at baseball. A catastrophic injury might have altered his path, but it was not going to stop him.
"It felt like a case of, why waste time being angry?"
Mike Ballard
"My motto over there was, 'No pity, no tears'," she says of April 2014.
"Of course, there were plenty of tears for me in private, but in front of him it was: no pity, no tears, let's move on and do what we need to do.
"It felt like a case of, why waste time being angry? I don't know what he felt in private because he was always focused on moving on and doing what we had to do. He had all sorts of ideas in his head about what to do.
"When he was injured, I remember him telling his mates that he was going to do something like that [target the Paralympics]. I think it was always in his mind after the injury.
"I remember him saying, 'Don't worry about me, I'll be smiling and doing great things'. He is such a positive inspiring guy."
Mike had previous experience of kayaking on the UAE's mangroves.
Mike had previous experience of kayaking on the UAE's mangroves.
Finding the right fit
After flying home, undergoing rehab therapy in Michigan, and living with his parents – Karen and Bill - it took the best part of two years for Ballard to decide to return to Abu Dhabi.
His mum and dad acquiesced to letting him come back after seeing the support he received from the rugby community after his injury.
"It was the first rugby game she had ever seen, and she got the double-barrelled version of what the rugby community was like at Quins," Ballard says.
"It is a special place: Abu Dhabi, Quins, and just the UAE in general. She saw how well looked after I was.
"A big chunk of my friends are teachers. I got injured in April, then after that is summer vacations. I had a steady stream of visitors that summer. They [his parents] got to know the crew really well, so they were happy to see me go."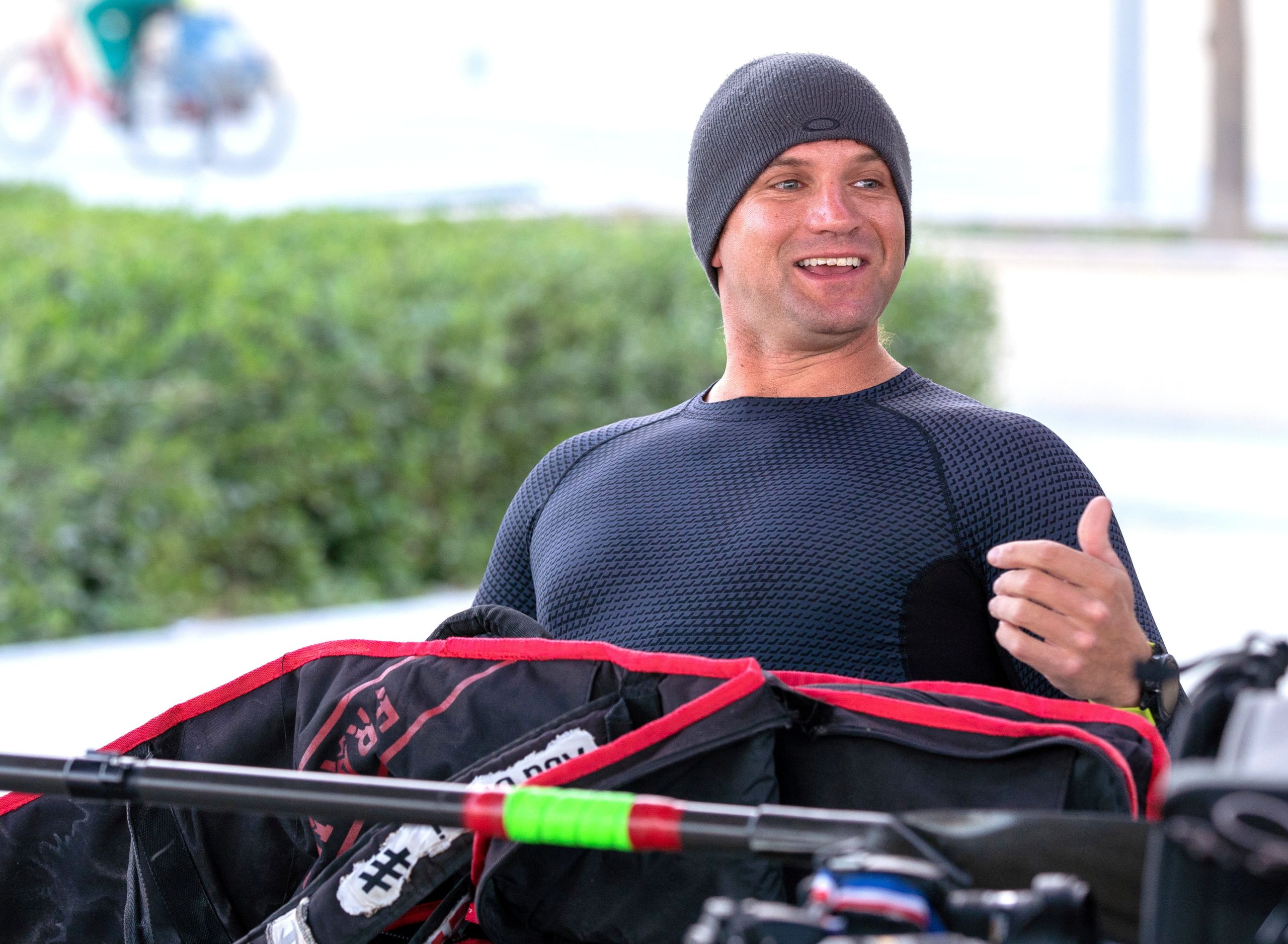 By 2018, four years after his injury, and two years after becoming fully ensconced back in life in Abu Dhabi, he set his mind to kayaking, and a tilt at the Paralympics. Even then, he did not take the easy route.
"He picked a really difficult sport," Karen Ballard says. 
"I was there the first day he tried it, and it was a case of tip over, tip over, tip over, tip over. It is really, really hard when you can't feel to navigate that skinny boat."
Despite the previous experience on the mangroves of the UAE, kayaking was not actually his immediate choice. 
Ballard wrote to every US Paralympic association, including a training video. USA Paracanoe were the first to reply.
"I looked at a list of every Paralympic event to see what I would be good at," he says.
"For cycling and wheelchair racing, you need to be built like a cyclist. That's not me.
"Swimming could have been an option, but it didn't fit my injury well. My legs drag. I would be in the same realm as a double, above-the-knee amputee. That guy wouldn't have to drag his legs.
"So, while I'm pretty sure I could have been competitive in swimming, the qualifications didn't work for me."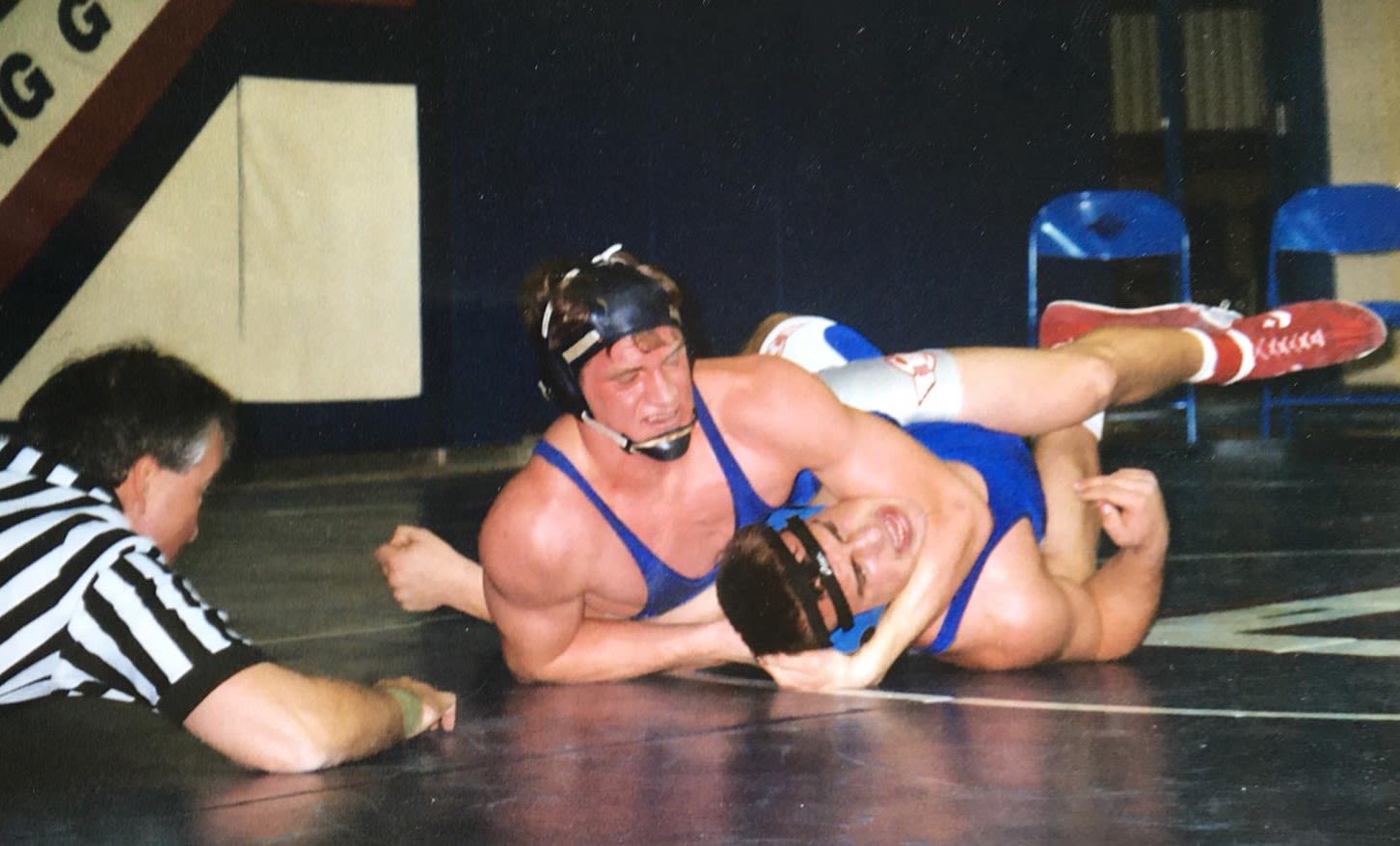 He dialled in on kayaking, and "they were extremely happy because I was an athlete," he says.
"There are so few people who fit the category for each division. The chances of somebody having my injury and wanting to get in a kayak? That eliminates 95 per cent of people.
"In America, competitive kayaking is a very obscure sport. It is not ingrained in our culture.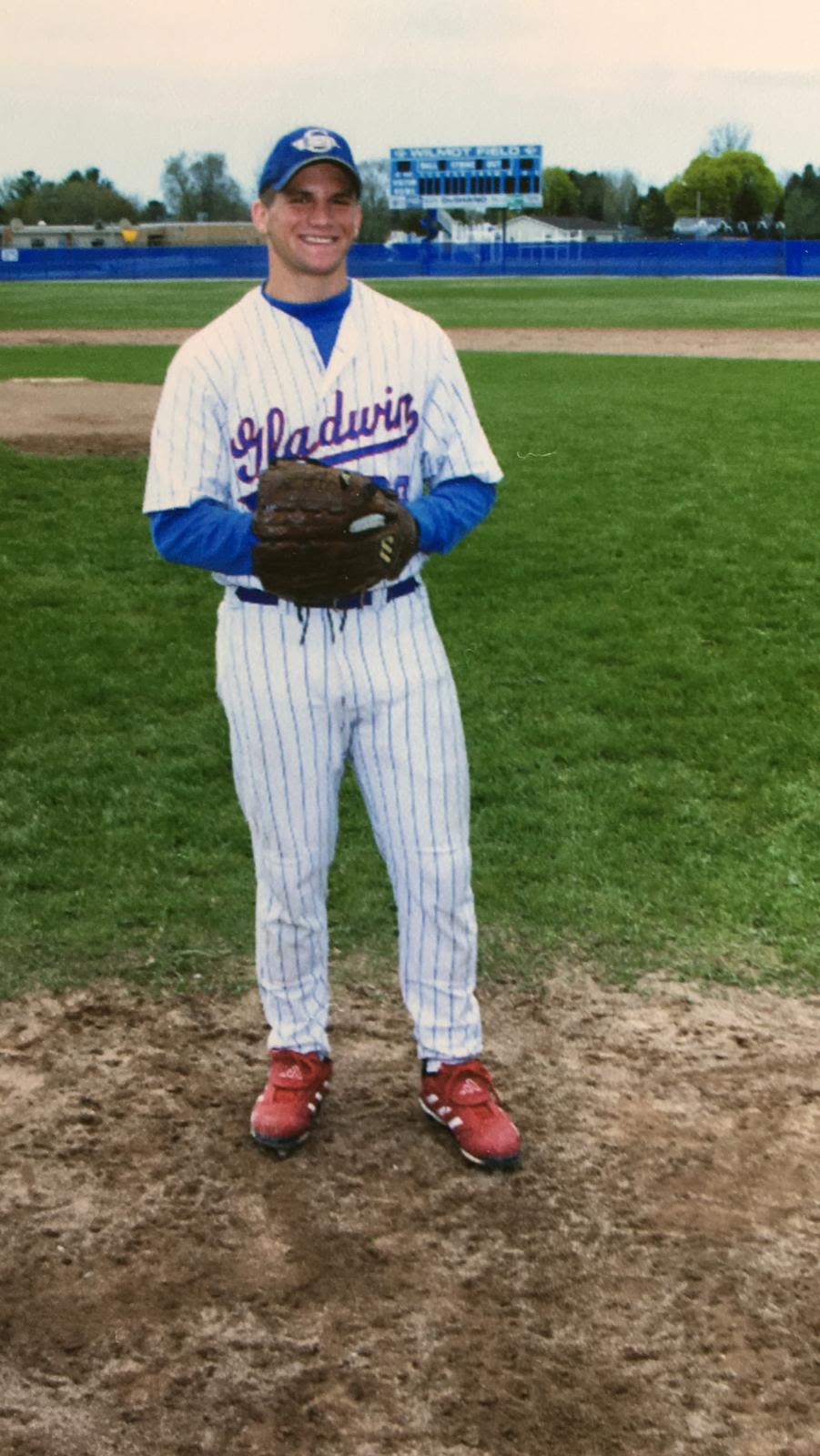 "We should dominate the entire world, with the sheer number of war veterans who have returned home, amputees above the knee and below the knee, and every one of those guys being a stud athlete.
"We should be able to put those guys in kayaks, coach them up, and dominate. But that infrastructure just isn't there. In England, for example, everything is lotto funded. So you have a coaching staff, a team bus, a trailer. You can use your own kayak at international events, and not have to rent them for a week.
"The infrastructure just isn't there, so they were extremely happy to have an athletic person to fit into a slot where we could be competitive.
"Because my injury is fairly bad, I'm in the more disabled division, so it is significantly easier to coach me up from the middle division than it would be if I were higher up."
Paracanoe classifications explained
Mike Ballard competes in the KL2 category of paracanoeing. Athletes are divided into different classifications dependent on the severity of their injuries, as follows:
KL1 - Limited or no trunk function, and no leg balance. Force is applied mainly via arms and/or shoulders
KL2 – Partial leg and trunk function, with good arm strength. Limb loss equivalent to double above-the-knee leg amputation, significant muscle strength loss in both legs, or an impaired range of motion in the lower limbs and trunk
KL3 – Trunk function and partial leg function. Use a footboard or seat to help propel the boat. Limb loss equivalent to the amputation of a foot. Impaired range of motion in the lower limbs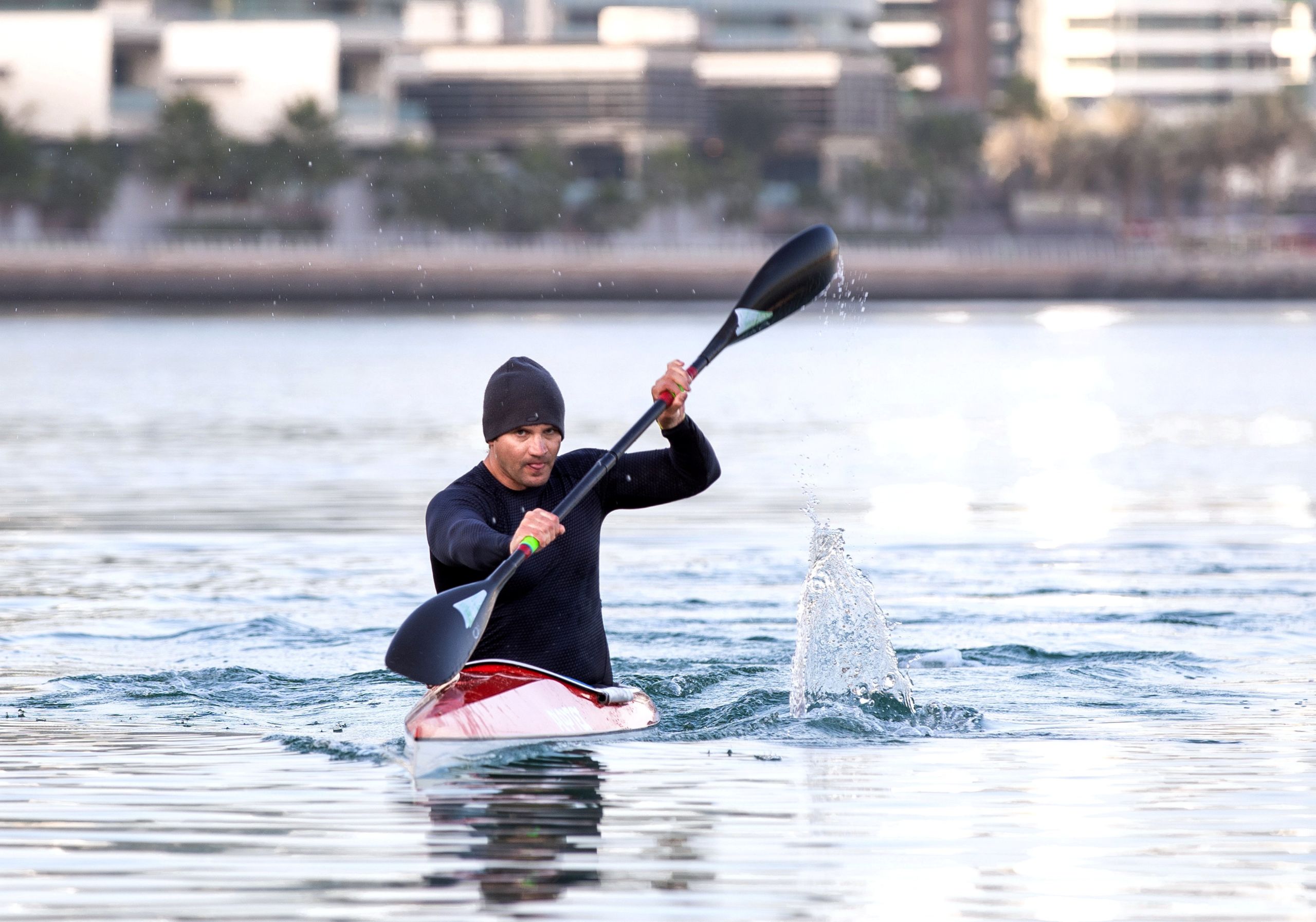 A need for speed
The challenges have not solely been physical, but financial too. With paracanoeing being a minority pursuit, funding is some way short of that afforded to Team USA's more gilded Olympians.
"My favourite line from this whole experience was from the Team USA manager," Ballard says.
"It said, 'Congratulations on qualifying for the World Cup in Poland [his first experience of international competition with the team]. You now have the honour of buying you own flight and hotel for your stay.'
"The more medals you win, the more funding you get. The more funding you get, the more medals you win. So if you don't win any medals, you don't get any funding. That's not complaining. That is just the reality."
Even with the weeks ticking down to his trip to Szeged, Hungary, for May's World Cup, Ballard is training in a boat which, he says, is not streamlined enough to compete at the top end of his division.
He is in the market for a speedier boat – but the market is small, and highly specific. Having one sent via air-freight would be prohibitively expensive, but he remains characteristically optimistic.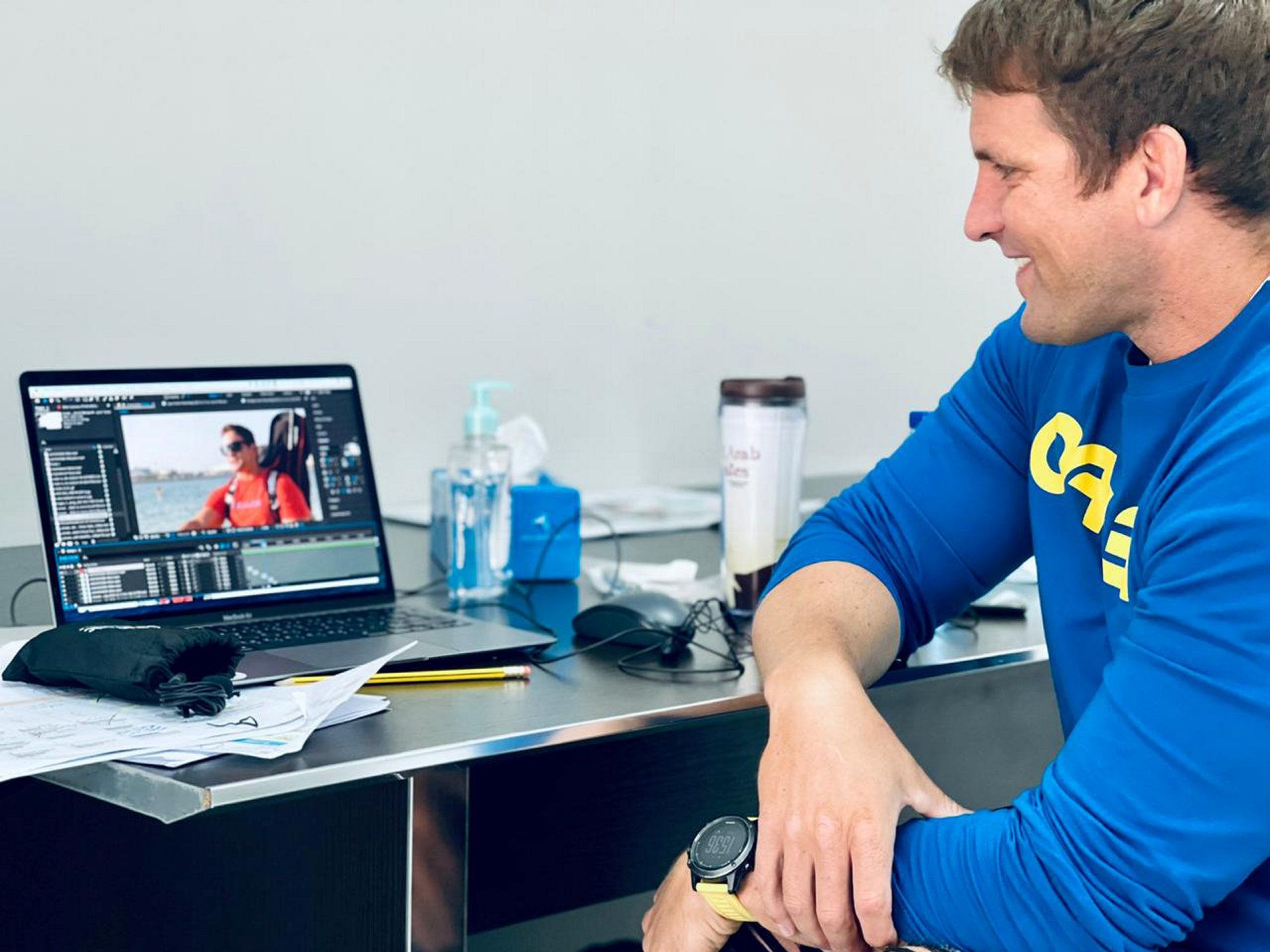 "I need to get a world-class boat into the country," he says. "It is just a case of ordering it, paying the money, and getting it done.
"I have a world-class boat in the garage back home in Michigan, I just haven't been home in a year and a half now.
"I will be competitive with what I have got, but I would be hard pressed to qualify for the Paralympics.
"I am going to get a boat here. It is going to happen. I just don't know when and how.
"If I get the boat here a month ahead of time, I am convinced I can figure out that boat over the course of a month.
"If I don't get a boat here, I will go to Hungary two weeks before the event, rent the boat, and spend all day every day in it. If it doesn't work out, I will downgrade to my boat. That is theory."
---
Credits
Photographs: Victor Besa / The National; Mike Ballard
Editing: Ian Oxborrow, Steve Luckings
Videography: Nilanjana Gupta
Copyright The National, Abu Dhabi, 2021