THE STARS OF
STREET CRICKET
A journey into the world of UAE tape ball, a game for the masses,
and one of the best bowlers in the international game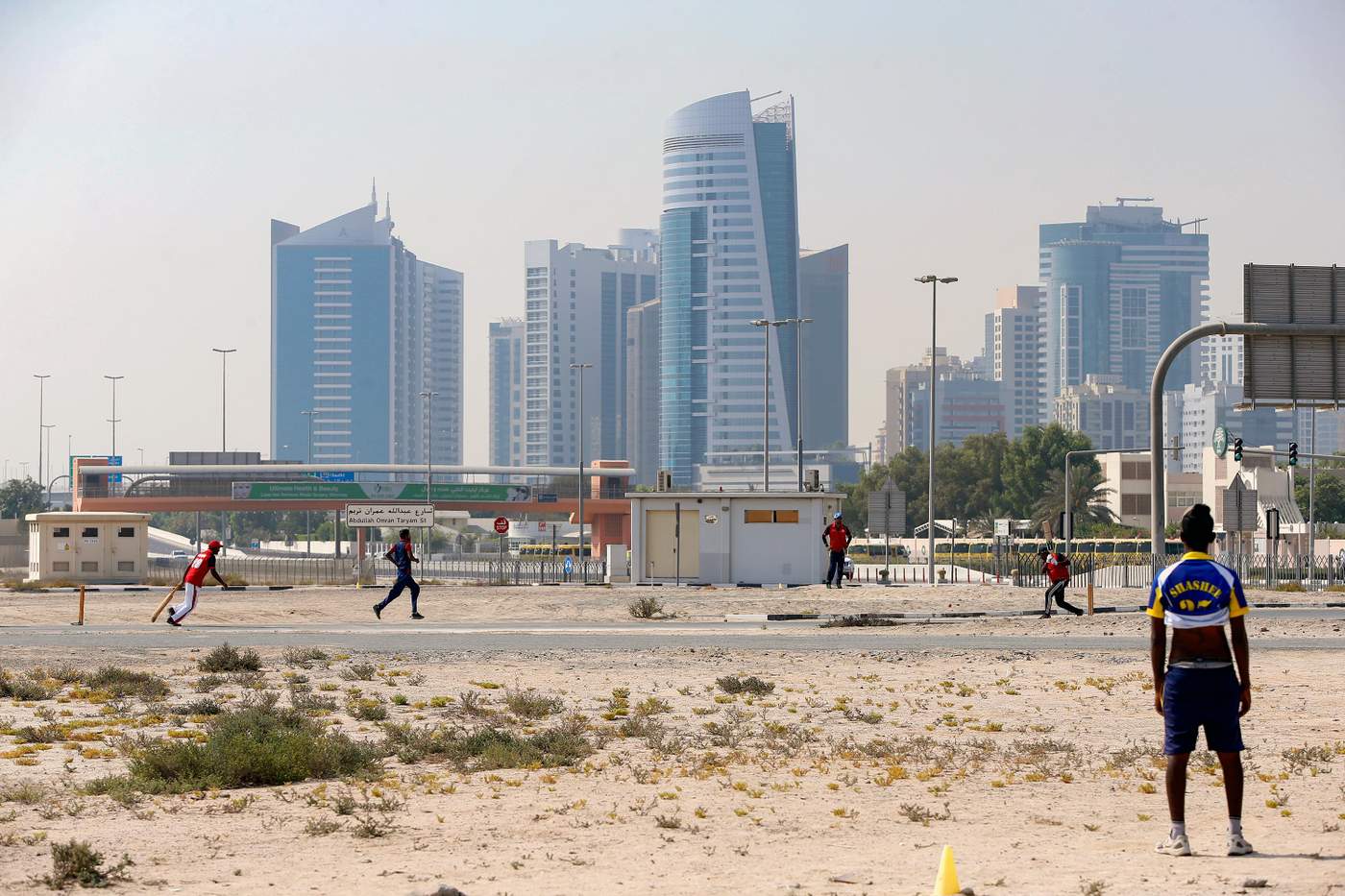 Friday cricket is ritual for thousands of people across the UAE. For the vast majority, that means vying for room in a dusty street or a car park, rather than on neatly manicured grass fields with a rolled flat wicket to bat on.
Stumps are rudimentary. Bats are whatever the players can lay their hands on. And the balls are not the conventional cork and leather ones of cricket's mainstream, but tennis balls wrapped in electrical tape to make them fly faster.
The players might be friends, but the competition is fierce. And talent is everywhere. Some have even shown it is possible to go from a street on the remote east coast of the UAE to the heights of the international game.​
7.30am. A Friday during Ramadan, in a car park in the middle of Al Quoz industrial estate, Dubai.
While his teammates crouch between two Isuzu utility vehicles to shade themselves from the early morning sun, a batsman removes his sandals and stands in front a set of thin metal stumps.
It is an internal match between the staff of a construction firm, in the nearest car park to their company accommodation in Al Quoz. A friendly, as it were. Although it doesn't seem so friendly just at the moment.
With the Burj Khalifa cutting into the blue sky behind him, a bowler runs in, and hurls the ball down, full tilt. The batsman swings and, it appears, misses.
And there is about to be a row.
"Out!"
"Not out, yaar!"
Words which, judged by the tone in which they are delivered, might well include expletives, are shouted between the opposing players in Tamil, Malayalam and Hindi.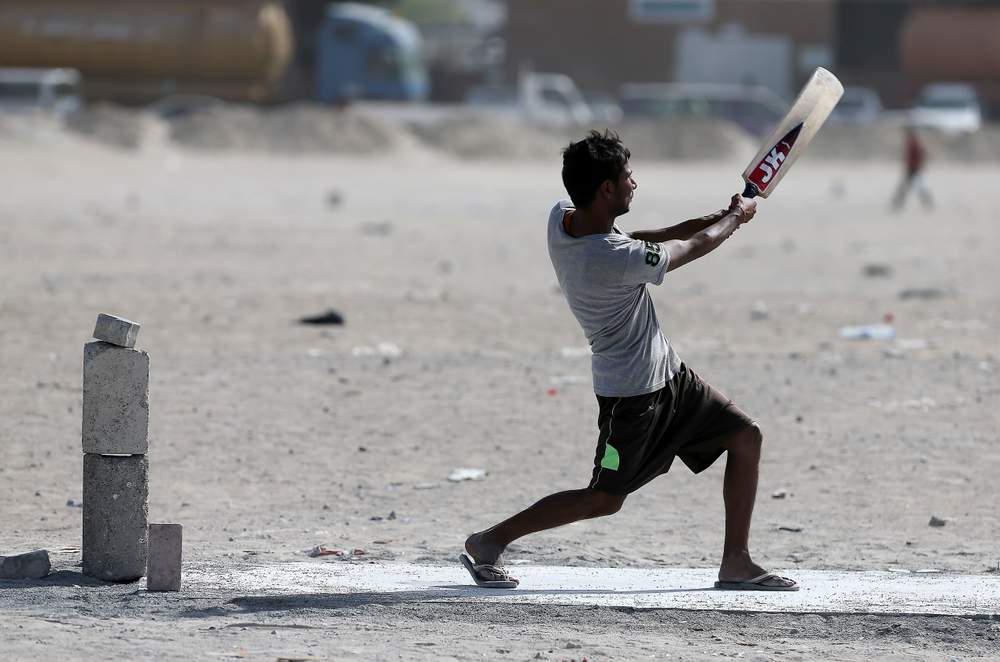 Then Prathab Selvaraj, the company's HR manager, steps in and makes a ruling.
Out. Innings over. Only 38 required to win from 12 overs. Too easy.
"No problem," PV Charan, a fielder whose day job is as a draftsman, says with a triumphalist smirk. "And we won the first game, too."
The players are halfway through the second game of the day, and it is not yet 8am.
This is how Friday mornings look for thousands of workers across the UAE.
There are at least a hundred in this car park alone. Five matches are taking place, side by side, with the full quota of 11 players in most teams.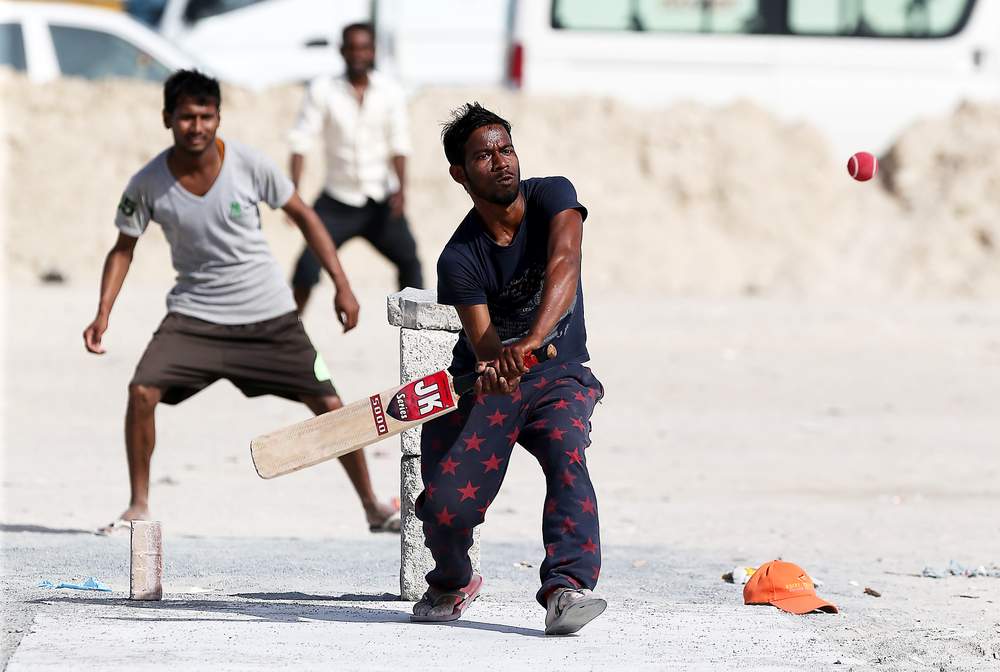 A handful are wearing full cricket whites. Some wear football shirts, with AC Milan and Benfica noticeably represented. Most just wear casual clothes.
This is a sizeable space, around 250 metres by 200 metres. But with this numbers of players, it still feels cramped. Matches overlap, with some fielders in one match being at the centre of the action in the neighbouring game.
This is prime real estate for street cricket. As such, the earliest risers get first dibs on the best spaces to play.
The players involved on the match on the far edge of this plot (furthest from their accommodation, but with one side of the pitch free from other matches) have Shahab Faisal, a 29-year-old Indian from New Delhi, to thank.
"I woke up at 3.30am for sehri [suhoor], the food we have before we have to fast," he says.
"After that, I went for namaz [prayers] at the mosque behind our street, then I came here to occupy this place. We didn't want anybody else to occupy this because it is the place that is most in demand.
"It is most undisturbed. We can play here alone. The place alongside that one, and alongside that one, there are two or three teams playing on that street already. But where we play, there are no other people on the offside."
Shahab volunteered for the job on the players' WhatsApp group. He was happy to take one for his team.
"Anyone can go, we decide on the group, but during fasting I prefer to wake up early and go," he says.
"It is better for me to go and get the place, then after half an hour, or 45 minutes, at 5.30am, everyone else comes."
The match mostly involves players who live in and around Al Quoz, the sprawling industrial area in Dubai, but some have come from further afield. Kishore Mhatre, for example, left his home in Sharjah at 5.50am to come and play. He brought his six-year-old son Kanav along, too.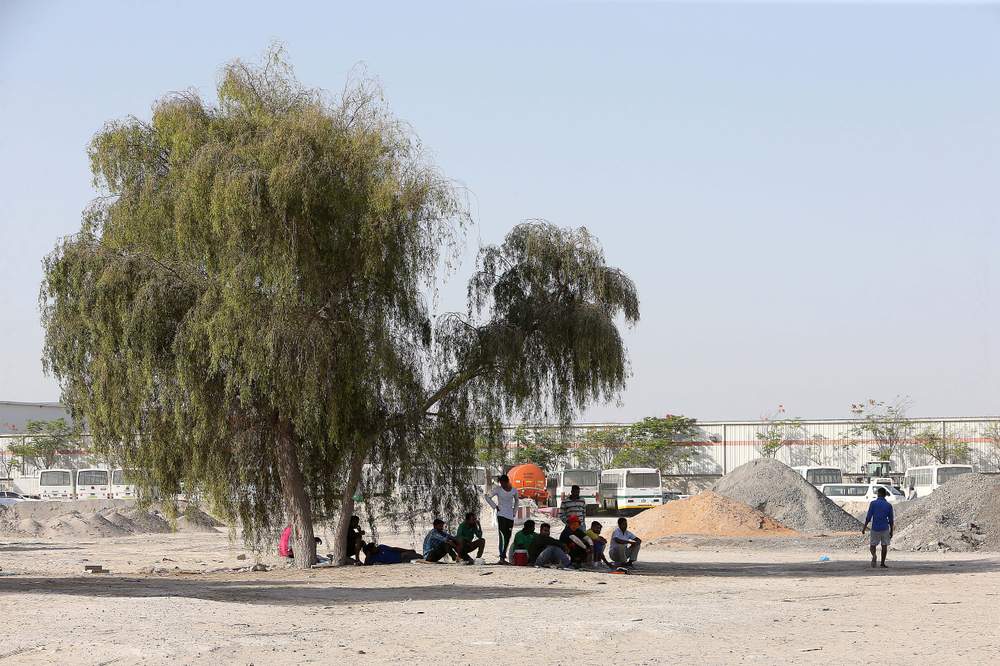 It seems like a remarkable undertaking just for a knockabout game of cricket, but the players would not miss it. It is a ritual, not just about playing sport, but about meeting up with friends.
"Sometimes there is 10, nine, eight players in one team, but we try to get 20 to 22 people so we can play properly," says Pravin Shetty, 31, from Mumbai.
"We don't have time in the office to talk, or have group discussions. This is our best means of communication, and for getting together. Most of the players have families. In the evening time, they prefer to spend time with their family."
The players are all expatriates who have come to Dubai from the subcontinent for work. Friday morning cricket is a little slice of home.
"In India, the craze is for cricket," Shetty says. "They start early in the morning, and carry on until three or four o'clock.
"Most of the Europeans [in their company], they don't stay around this area. And these people are mostly managers. We are on the lower level, we work in admin, so we play. The managers won't come to play with us. They have separate interests, like golf."
At the moment, matches are mostly finished by 9am because of the summer heat. In the cooler winter months, though, play can last all day.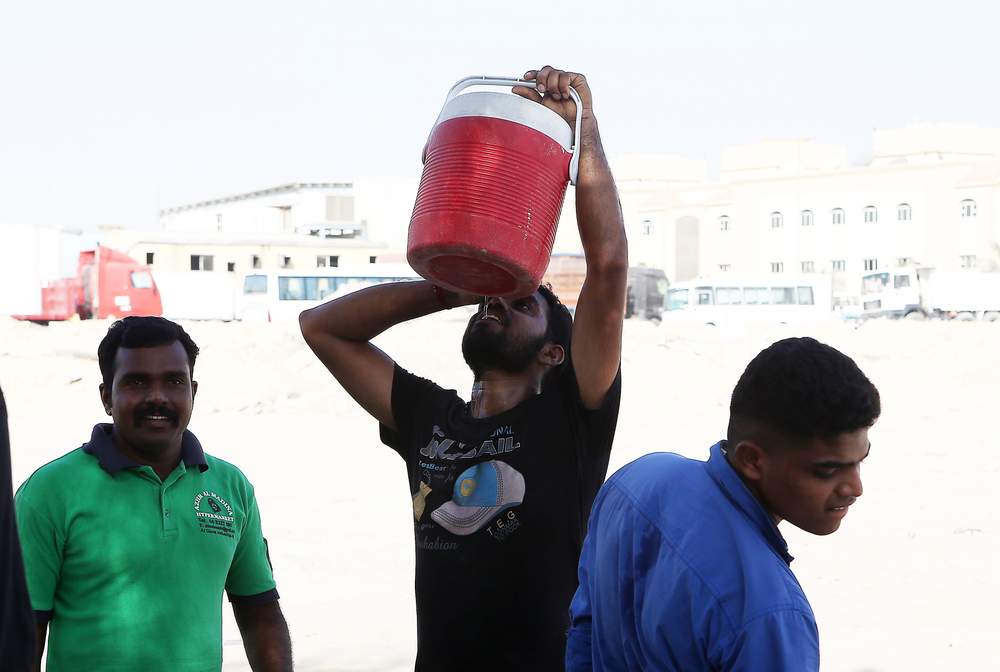 "There is no limit in India to playing cricket," Faisal says. "Here, it is only the heat. In winter, we play maximum five matches. The team who win the majority are the winner.
"During the game we are not friends; we are competitors and rivals. We need aggression to make the games fun. But afterwards, we are friends."
So, they want to know, why the sudden interest in their game?
"Are you the UAE selectors?" asks one of the fielders on the edge of the middle match in the car park. His broad grin made it clear he already knew the answer.
Of course not. That would be ridiculous. Why would they be looking here? Nobody could make it from playing with a taped tennis ball in a car park to the international game.
Could they?
How one of the world's leading bowlers, still turns out to play tape-ball cricket with his friends
Mohammed Naveed played in cricket's World Cup in 2015. He dismissed the sport's then leading batsman, Hashim Amla, among others, while he was there.
He hit Ravindra Jadeja for six off his first ball. And Dale Steyn, too.
He is currently ranked the 11th best bowler in the world in Twenty20 international cricket, and has designs on a place in the top 10 as soon as possible.
He earns two salaries via cricket, and says he is very comfortably off as a result.
And despite all that, he thinks nothing of driving two hours through the Hajar Mountains from Sharjah to play tape-ball cricket for free with his friends in Khor Fakkan on the east coast.
Tonight's game, in an organised tournament involving 20 teams, begins at 11.30pm. He drove the 150 kilometres from his home near Rolla Mall on the evening of the game.
After the game, at around 1am, the team have dinner together, before Naveed bunks down in one of their rooms, then travels home in the morning.
"I love it when I come to play here," Naveed says. "I do this because my friends love me and respect me."
He has not forgotten what got him where he is in cricket. Just before the turn of the decade, he arrived from his home Jhelum, a city around 100kms south-east of the Pakistan capital Islamabad, on a tourist visa to visit friends in Fujairah. He is not even close to going back.
Now he is an international cricketer with his adopted country. The route he took to get there was a circuitous, but beautiful one.
After impressing everyone while playing tape-ball cricket in the streets on the east coast, his friends suggested he go to Sharjah to try to catch the eye of the UAE selectors.
He took a public bus to nets at Sharjah Cricket Stadium, a journey that took three hours there, three hours back.
He bowled 10 deliveries in front of Aaqib Javed, the former Pakistan player who headed cricket in the UAE between 2012 and 2016. The national team coach was hooked, immediately calling him into his team.
Naveed's cricket skills earned him employment. He is paid a salary by United Bank Limited, or UBL, nominally for a job in their accounts department, but mainly to represent their staff cricket team.
He does this (naturally, as the leading pace bowler in the country, with distinction) on the neatly kept grass fields of Sharjah Cricket Stadium and the Zayed Cricket Stadium in Abu Dhabi. His wages are further topped up by a retainer to play for the national team.
Naveed is proud of the fact he earns well from cricket. He is content to bear the costs of the regular speeding tickets he says he has incurred in getting to matches, although he was grateful for the discount offered on paying the fines during Ramadan.
Despite his salaried commitments, he still chooses to make a round trip of over four hours to play for free with his friends in Khor Fakkan as often as time permits.
"People enjoy their work when they get a lot of respect," he says. "Money is not as important to me. Respect is. Respect and love. They are both important in life. That's why I come here.
"When I started off, my goal was to play for the national team, and play good cricket. People would ask me why I was working so hard and what my aim was.
"When I would tell them I wanted to play for the UAE one day, they would assume I was joking. I worked hard from the very beginning, right. And I was always determined to achieve my goal."
One goal was ticked off when he debuted in international cricket. The next is in sight.
"If I reach the top 10, my dream would be achieved – that I would be among the top 10 bowlers in the world," he says.
Being a UAE national team cricketer does not confer quite the stature players receive in countries such as India, Pakistan, Australia or England.
But Naveed does have some celebrity. As he idles away time before his match for Babar Cricket Club in Khor Fakkan, a man takes a break from selling chai at a pitch-side stall to take a selfie with him. He is not the only one.
His mates enjoy Naveed's stardom even more than he does.
"Here, 90 per cent of the people have only come to watch Naveed," says Sami Ullah, a long-term friend of his from back home in Pakistan, who is now in charge of marketing for a money exchange company in Fujairah.
He is referring to the hundred or more spectators who line the boundary, sat on anything from rudimentary wooden benches and bleachers, to - randomly - a felt armchair.
Even though it is approaching midnight, there is a good crowd assembled for what might be one of the hottest tickets in Khor Fakkan tonight.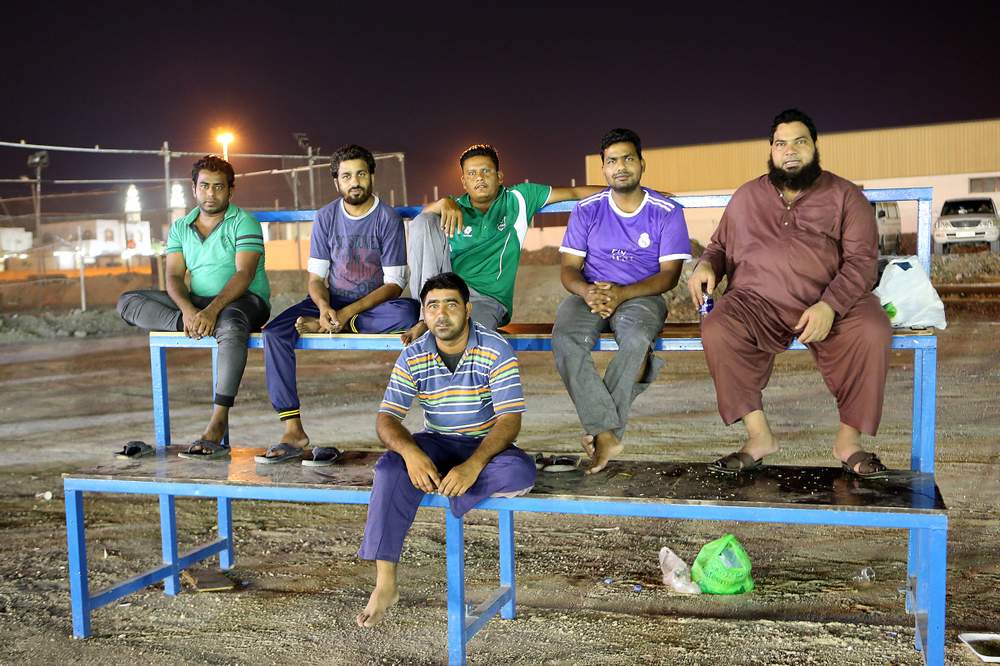 "They want to see the international cricketer," Sami says. "His pace is very good. His batting style is very good. People are inspired by Naveed's cricket.
"They want to come here and take selfies with him. He is very famous. He has played ICC World Cup in 2015, so people only come here for Naveed. Everybody likes his style."
Naveed has the twin attributes of the archetypal tape-ball champion: he bowls fast and hits big sixes. When he played at the World Cup in 2015, his main goal for the competition was not, as the leader of the UAE bowling attack, to take wickets and send down 10 thrifty overs for the good of the team.
All he cared about was hitting Steyn, the game's fastest bowler at the time, for six. He managed it, too, hitting the fearsome South African quick 20 rows back in a game in Wellington. Earlier in that game, in his main suit as a bowler, he had taken the wicket of Amla, but he was less fussed about that than his batting exploits.
Not surprisingly, his cheer squad back on the UAE's east coast were thrilled.
"During the World Cup, we were in one room and there were 40 to 50 people there, sitting and watching," Sami says.
"When Naveed came on to bowl, we were loudly shouting, 'Naveed! Naveed!' like that. When we saw him on TV we were very happy. After the match we called him from here, telling him his pace was good and we were happy for him.
"We thank UAE for giving a chance to Mr Naveed to play international cricket. Inshallah, he will be in the top 10 bowlers in the world."
Waqar Younis: Sharjah, Imran Khan,
tape-ball cricket, and me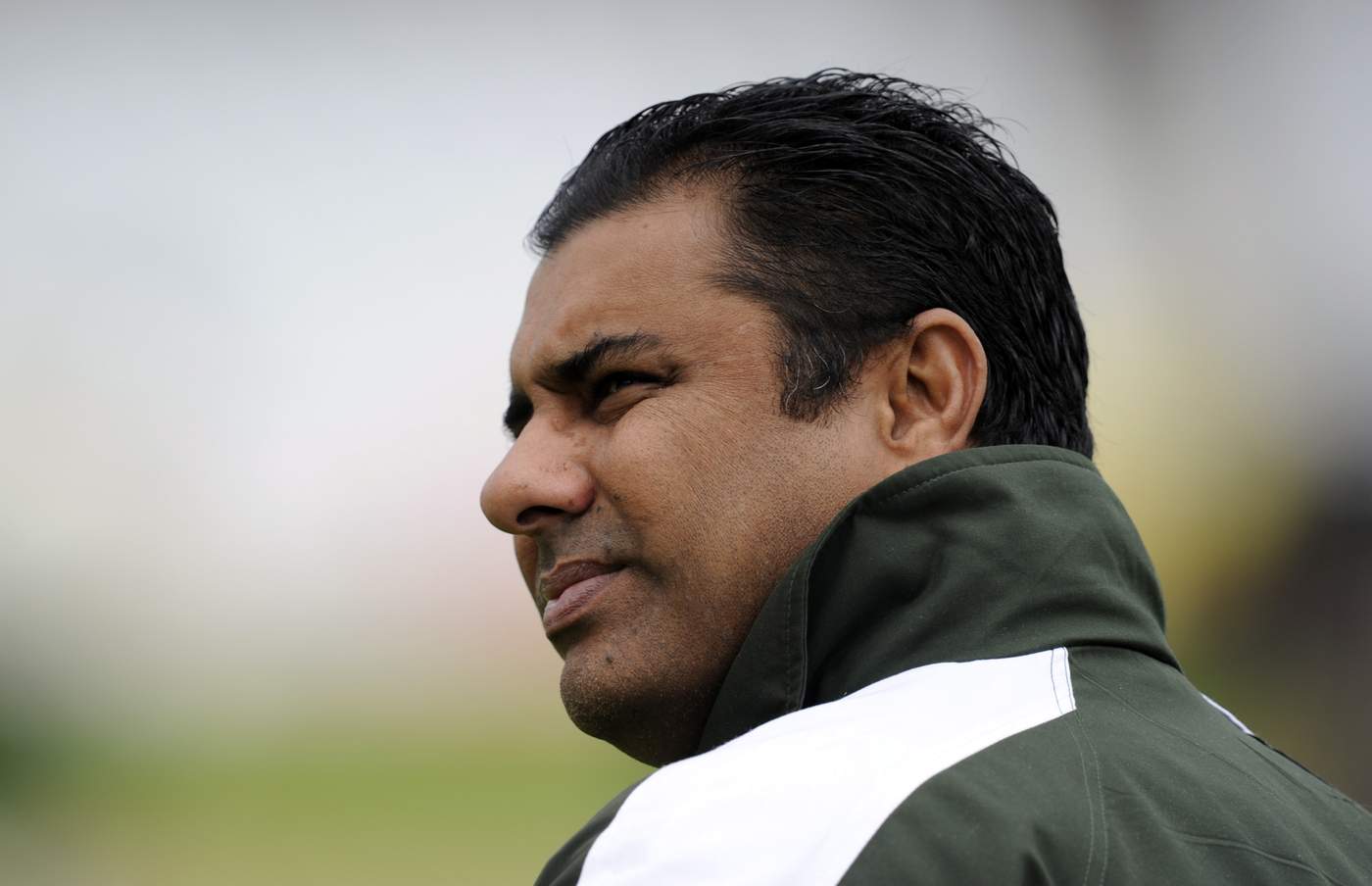 More than anywhere else in the Middle East, Sharjah is synonymous with cricket.
First played at the Royal Air Force base in the 1950s, cricket took hold when Abdul Rahman Bukhatir, an Emirati who became a successful businessman, fell in love with the sport while studying in Pakistan.
He funded the construction of a cricket ground in his home emirate, and the game flourished from the start of the 1980s.
As well as a stadium of great renown, Sharjah also gave international cricket one of its all-time favourite players. Or at least played a small, but key role in his development.
Waqar Younis lived there for five years as a child, after his father was posted to work in Sharjah port, then later in Dubai and Abu Dhabi, too.
One of the earliest memories he has of the game he went on to grace as the captain of Pakistan and one of its premier fast bowlers is from a trip to watch a match in Sharjah.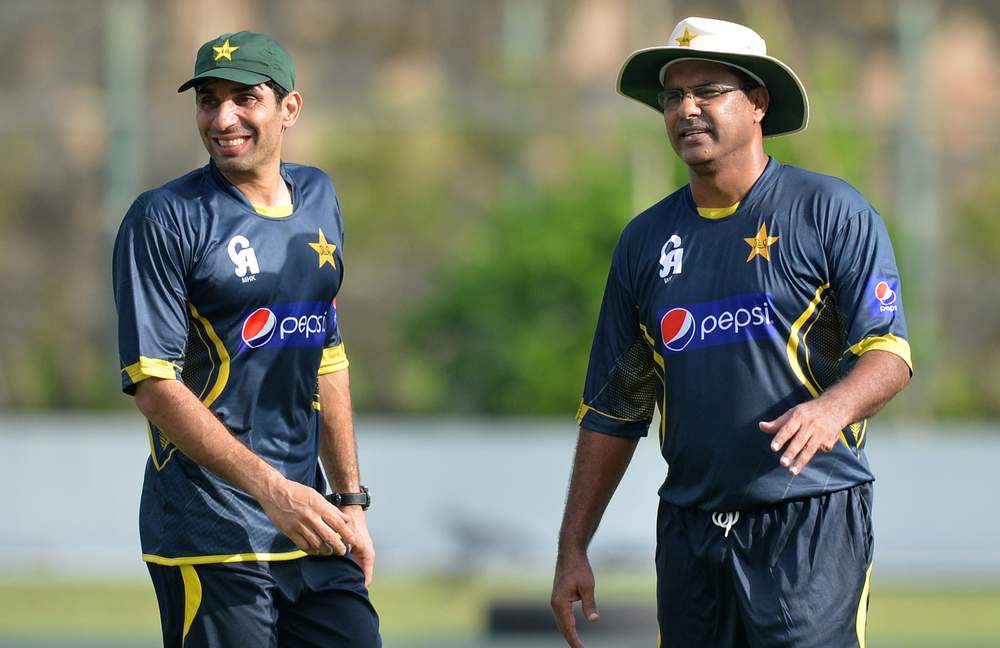 "We didn't live too far from the stadium," Waqar says. "I have a great memory of seeing Imran Khan playing there. He was a youngster, very young, maybe a teenager.
"I remember that because later on I played under him. He was almost retiring, but I got to play under him for a couple of seasons. I always cherished that because he was someone I had seen play in my childhood and then I got to play with him. It was very special."
Now Sharjah Cricket Stadium has staged more one-day internationals than any other ground in world cricket. On any given match day the action outside the stadium is usually every bit as fevered as inside.
Innumerable tape-ball matches are played on whatever ground is spare in the surrounding area in Sharjah Industrial Area 5. This includes wasteland next to the down ramp of Sheikh Khalifa bin Zayed Al Nayhan Road, meaning fielders have to be wary of juggernauts doing 80kph just past the boundary.
And, even if many of the bays have been filled by cars of the spectators for the big match, matches still go on in the car park adjacent to the neighbouring football stadium.
Waqar says he played "very little" tape-ball cricket in his youth, either in Sharjah or Pakistan. When he did, it was "just for fun, nothing to be learnt from it".
He added: "Tape-ball cricket helps the batsmen more than the bowlers. It comes a little bit quicker off the surface because of the tape. The bats are lighter, your hand-eye coordination has to be better."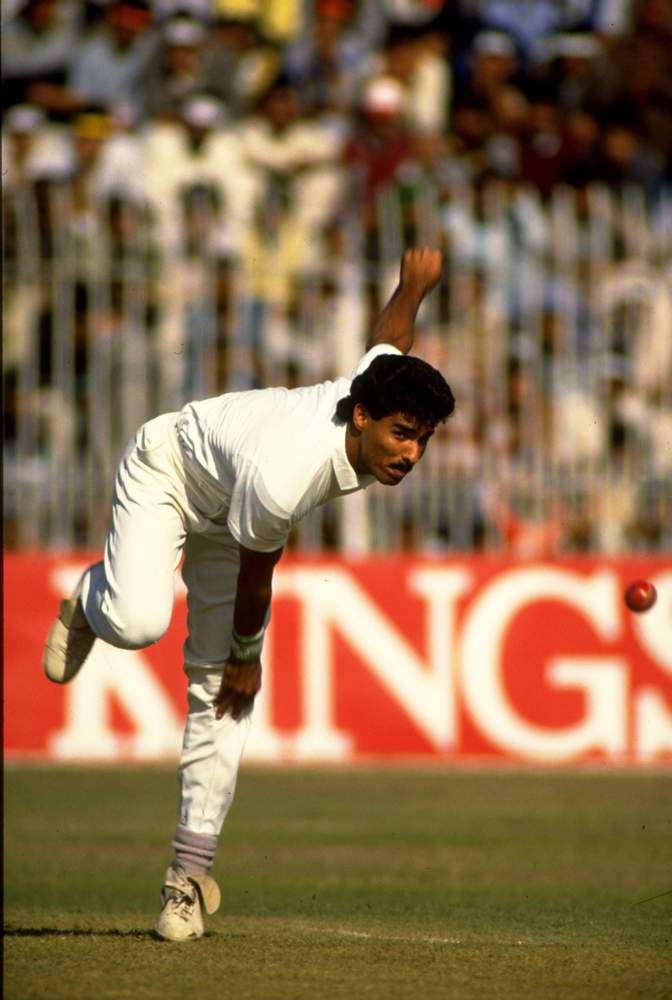 Some coaches swear by the merits of tape-ball cricket. Aaqib Javed, who won the World Cup as a bowler for Pakistan in 1992, first gave Mohammed Naveed, the Fujairah tape-ball cricketer, his chance in international cricket, when he was coach of UAE.
He thinks bowlers who learnt the game using a tennis ball wrapped in tape are automatically conditioned to bowling fast.
"It takes a lot more effort than a cricket ball, especially bowling yorkers," Aaqib, a long-time teammate of Waqar's, said. "When you are playing tape-ball cricket, you have to be smart."
Waqar is cool on the relevance of the recreational version of the game on him, even though his bowling method might be said to have betrayed many signs of a tape-ball champion.
He puts his distinctive "slingy" bowling action down to the modifications he made to deal with the pain of a back injury suffered early in his career, rather than tape ball.
"I played, it is not that I didn't, but to say that it helped me increase my speed, I don't think so," Waqar says.
"I was very natural when it comes to speed. Maybe some actions can be improved on because of it, but it didn't work for me. Of course, when I was playing tape-ball cricket, I never thought I would go on and play for the country.
"I broke my back very early in my career. I didn't remodel my action, but it gave way to certain parts of my body that were aching at the time, and my body adjusted to it, and my action got slingier."​
The Tape Ball
Street cricket in the UAE is mainly the preserve of subcontinental expatriates, but each game carries with it intricate regional differences.
That is the view of Prasanna Ranjith, a Sri Lankan who has been organising street cricket tournaments in Dubai for over a decade now.
His matches are played with a tennis ball (Dunlop or Wilson are his preferred manufacturers) wrapped with electrical tape. Ten rolls of tape cost around Dh10.
That is not the form of the game he and his compatriots are most used to, though.
"Once I invited a Pakistani team, Akhtar CC, named after the fast bowler Shoaib Akhtar, to play," he says. "They won the tournament, we were the runners-up. They were very, very tough. Tape-ball cricket comes from Pakistan."
Before making it to the international game, Lasith Malinga, the Sri Lankan fast bowler, modified his idiosyncratic "slingy" action to suit playing with a tennis ball on the beach.
Ranjith says Malinga and his compatriots would traditionally have used a different method to make the ball aerodynamic, rather than covering it in tape.
"In my country, we never played with a tape-ball, we played with a normal tennis ball," he says. "Sometimes we will burn the ball, then other times we will cut the ball with a razor. After that the ball will fly more quickly."
Ball tampering in the noble art of street cricket
Despite frequent and fiery disputes over even the most inconsequential facets of the game, street cricket is generally self-policed.
If someone neutral is around and available, they will be nominated to umpire. If not, a responsible member of the batting team is sent on to become the arbiter.
One noble quirk of the game is the way the batsmen can ask, at any given time, to check the condition of the ball. The fielders and bowlers hand it over without protest.
In matches with tangible reward at the end, such as the Ramadan tournament in Khor Fakkan which carried with it a Dh3,500 prize for the winners, batsmen could often be seen examining the projectile after every other ball.
They are studying for blemishes or tears on the surface, as well as checking its bounce. The bouncier the ball, the further it will travel off the bat, goes the theory.
Much in the way of hard-ball cricket, where there are rules against scuffing the leather artificially (and contravention of them can and has led to diplomatic incidents in the international game) ball tampering is regarded as both a crime and a skill in street cricket.
Depending on how heavily wound the ball has been with electrical tape, a tear in the surface can have a profound effect on its flight.
This can be naturally occurring, because of the impact on the bat, or because of the abrasion when it lands on rough tarmac or stony ground. Or it might be brought about by a sly fingernail.
Skilful bowlers will be able to use the imperfection to induce drag from the air while the ball is in flight, thus creating swing. Hence the scrutiny by the batsmen.
"The ball is only light, and every time we hit it the tape can be broken," says Umair Ali Khan, a tape-ball cricket aficionado from Fujairah who has represented the UAE in international cricket.
"Sometimes the bowler also tampers with the ball, and it can swing too much. When the clever bowlers come on, they can tamper with it. It is not like there are any cameras here to see them doing it. Then they can swing it."
It is serious stuff. Umair is one of three international players in the Babar Cricket Club team who played in the Khor Fakkan tournament.
Their opposition rarely stand a chance, given the pedigree of UAE players and street cricket champions Mohammed Naveed, Mana Shahzad, and Umair himself.
And still, even though they dominate most matches they play despite barely breaking sweat, he is neurotic about checking the ball, even shouting to the batsmen in the middle to do so when he is on the sidelines waiting for his chance.
"For every two or three balls, if the batsmen want to change the ball, they can do it," Umair says. "In this cricket, there is no issue. If you want the ball changed, no problem. The fielding team cannot hide the ball."
King for a day
Tape-ball cricketers live to be considered the champion of their street, or the car park. They want to be king for a day, even if the intense summer heat of the UAE, for example, means games can be over before breakfast.
As the world's No 11-ranked Twenty20 bowler, Naveed has a strong claim to being the leading cricketer in the country. He might not even be the best street cricketer in his own house, though.
Mohammed Shahzad, best known as Mana, is Naveed's housemate. A UAE international up until recently, he is a street cricket star.
Those who know claim that spectators used to travel across Gujranwala, his home city in Pakistan, just to watch Mana playing tape-ball cricket, before he made the move to UAE.
The shy 37 year old baulks at the idea. "Did he tell you that?" Mana asks, nodding towards his smiling housemate Naveed. "He is a liar."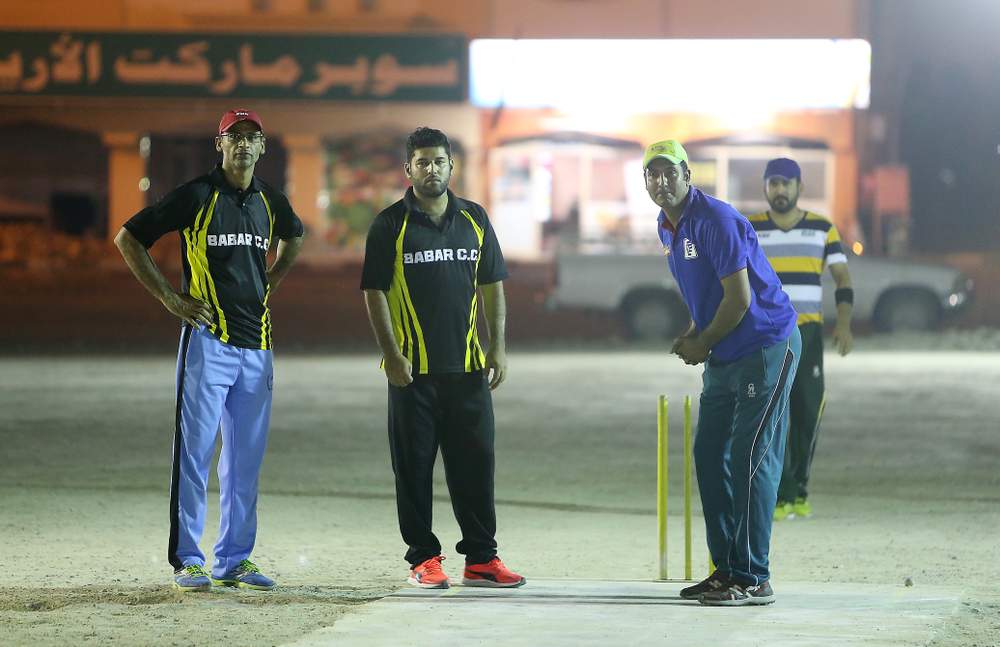 The evidence in Khor Fakkan suggests Mana's modesty is misplaced. It is past 1.30am now, on a work night, and people still line the boundary to watch him play in his second match of the night.
"I played a lot of cricket, and good cricket in Pakistan, which is why people liked me," he says. "I don't feel under any pressure in front of the crowds."
Street cricket is rent with machismo. Bowlers propel the ball as fast as they can, targeting head or stumps. Batsmen, as a rule, try to bludgeon the ball as far as they can, usually straight back past the bowler, or heave to the leg-side.
Mana's method differs from the wild windmilling of others. He deflects the ball in whichever direction he chooses. When he does deign to hit a six, it makes a different noise off his bat than the rough slap others make.
Like Naveed, it was cricket that kept him in the UAE, after he initially arrived on a tourist visa.
"I came here on a visit, only for playing cricket," says Mana, who represented his state at tape-ball cricket age 10, and only played hard-ball cricket for the first time when he was 15.
"I performed well. My first company gave me a visa and I got to stay. There was no way to support my family [in Pakistan], so I stayed here to help them."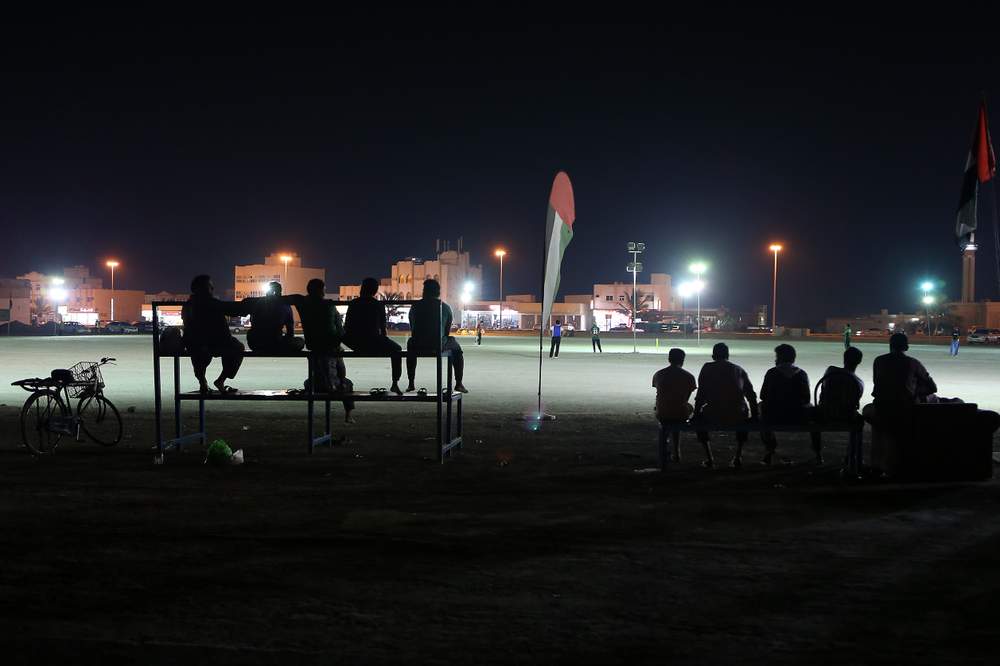 He is doing the same thing now, too. Mana was among the first batch of eight players to land a deal to play professionally when the Emirates Cricket Board, the sport's governing body, offered central contracts for the first time last year.
He has since been cut loose, though, with the selectors citing his age as the issue. Losing his job has meant starting over.
His wife and young daughter remain in Pakistan, while he is trying to set up in business in Sharjah, having invested in a 50-tonne crane with his earnings from cricket.
"I will stay," he says. "I have started my own business, Alhamdulillah. After that I will get visas, go back and bring my family here."
To make a go of business, he plans to retire from organised, hard-ball cricket. But he will find it impossible to let the street version go. "This is for fun," he says. "I will continue … only for fun."
Street cricket - unrefined, but beautiful
You won't know Al Marzam Street and Al A'kaak Street. Even the few residents who live on them might not even be aware those are the names they go by.
They are situated a couple of hundred metres inland from Black Palace Beach (known to many as Secret Beach) in Al Sufouh, near royal beach side palaces, and directly opposite Dubai College on the other side of Hessa Street.
Stand on either of the interconnecting streets, and you have salubrious views in all directions. Look north east for a clear perspective of the Burj Al Arab. Dubai Marina dominates the skyline in the other direction, while the dapper skyscrapers of Barsha Heights and Dubai Media City are closer still.
These streets may be in the middle of up-market new Dubai. But because of the way they are configured, you would not use them unless you had taken a wrong turn. As such, even at the height of rush hour, there is no traffic. They are not really good for much, other than U-turns.
And Friday cricket.
Al Marzam Street culminates in a small turning circle, roomy enough for a set of stumps, a batsman, wicketkeeper, and perhaps a slip fielder.
If you look very closely (and there is no reason why you would) you will see sets of crease-lines, permanently marked with spray paint, 22 yards apart.
The bowler delivers the ball from the Dubai end. There are no sight-screens, obviously, and it must be easy for the batsmen to be distracted by the view, on a clear day, back to the Burj Khalifa.
Because Al A'kaak Street runs at 90 degrees to Marzam, there is plenty of room between the two places picked out for players to bat. As such, two matches can be running concurrently, with minimal overlap.
The only incursions on to the field of play are the speedboats that belong to the local residents, parked on their trailers beside the substantial villas nearby. Often, of course, on Fridays, these are at sea when the cricket is on.
If you were picking a spot to play street cricket with a view, this would rank very highly. Which is why Prasanna Ranjith is grateful his team, the Red Lions, have been able to call it their home ground for the past eight years.
"In Dubai you cannot play everywhere," says the Sri Lankan expatriate. "We played for so many years in Jumeirah, but we got a complaint.
"Some people complained we were noisy. Matches start early in the morning. People got upset, called the police, and now they have blocked that area."
The parking lot next to the Spinneys on Al Wasl Road in Jumeirah has been closed to their cricket matches since 2009. They are happy to have found a more than adequate replacement, and do their best to stay on the right side of the residents next door.
"Sometimes the neighbours complain, but we apologise," Ranjith says. "We are not doing anything wrong, just playing and enjoying ourselves.
"We don't think we are doing a bad thing. We need a place to play the game. This pitch is OK. The road is closed, nobody will be disturbed. We have found a very good place to play. And it is easy to enter and exit."
His tournaments are easy to enter, too. Ranjith organises competitions on this plot for teams from all over the country. Usually, but not exclusively, the teams are of Sri Lankan origin, like his.
For tournament matches, this area of waste land looks as spruce as possible. The players from the host team mark the boundary by pouring a thin line of powdered chalk from a hardware store with their hands onto the sand. For the avoidance of doubt, small, luminous orange cones also delineate the boundary.
With the entry fee, usually between Dh200 to Dh300 per team, Ranjith buys trophies for the best players. Dependent on how many sides are involved, there are also cash prizes of up to Dh2,500 for the winning team and Dh1,500 for the runners-up.
Events generally involve six to eight 11-a-side teams, playing eight overs per side, although in 2015 it was an extravaganza involving 28 six-a-side teams.
Ranjith is glad to organise tournaments as often as he can. He is making up for lost time. When he first arrived in Dubai from Colombo in 2004, his job in the hotel industry did not afford him a Friday off, meaning he missed out on his weekly fix of cricket.
"Normally we have one big tournament once a year, but we often organise small tournaments," he says.
"I do it via Facebook and Instagram, and send the posters to all the captains I know on WhatsApp. Teams come from Deira, Abu Dhabi, Sharjah, Umm Al Quwain.
"People like it when we organise a tournament, because we provide lunch, and it is fair for everybody. We don't arrange it so that our team has to be in the final. Sometimes people arrange it like that, and people don't like to participate in those tournaments."
"Enjoy the game, and chase your dreams.
Dreams do come true."
Sachin Tendulkar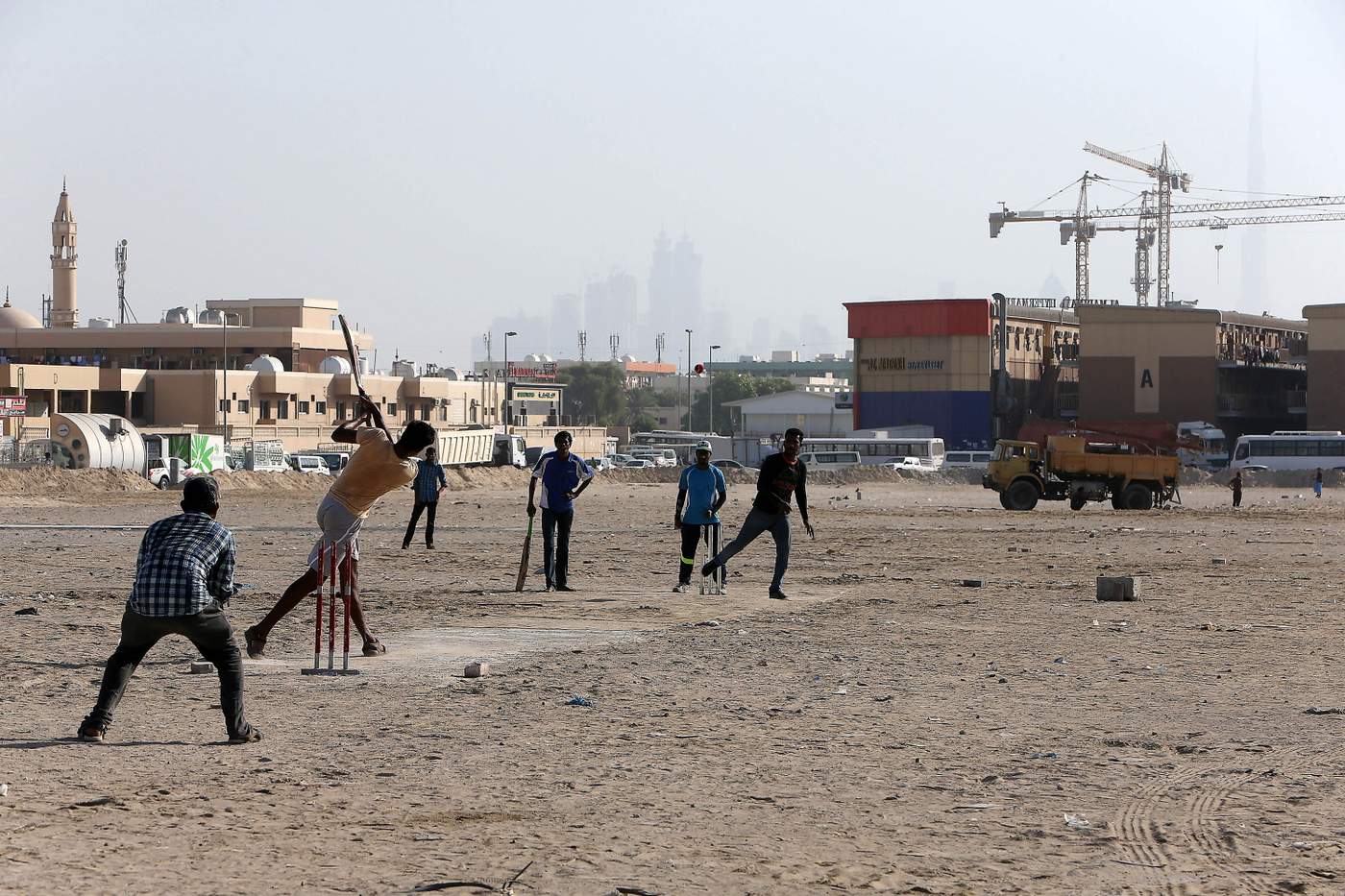 Credits
Words: Paul Radley
Images: Pawan Singh, Chris Whiteoak
Video: Emmanuel Samoglou, Paul Radley
Editing: Steve Luckings, Chitrabhanu Kadalayil